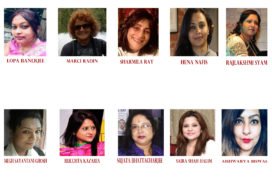 India has been independent for more than seven decades and still 'freedom' for women seem to be a fantasy or a hallucination but this is not the only picture in India as there are also contrasting women who have struggled hard and have carved a niche in India. Could there be anything better than honouring the freedom of women in the country? I guess no.
The first ever women's short film festival will be organised by IWSFF (International Women's Short Film Festival) which has members like Santasree Chaudhuri, the Chairperson of the Green Tara Social Initiative; Moonmoon Chakraborty, the CEO of Woman Times, Arunava Middya, an actor and director; Sharmila Roy, Poulami Chakraborty, the Editor of Woman Times and Ruth Pal Chaudhuri. Apart from them, the painting of Tanugatri Majumder has been selected as a part of the event. There will be the screening of short films by different directors on women issues followed by an award program. The following ten women will receive the award from the team on 18th August 2018 at Nandan from 5 pm onwards.
LOPA BANERJEE –
Author of five books, including 'Thwarted Escape' (Honorable mention, Los Angeles Book Festival 2017, First Place Category Winner, Journey Awards 2015), two poetry collections and two books of English translation of the creations of Nobel Laureate Rabindranath Tagore, Lopa Banerjee is a writer, poet, editor and translator, originally from Kolkata, but currently based in Dallas, Texas, USA. Lopa is a born dreamer and a die-hard romantic who believes "all the world is our stage". She has a Master's degree with a thesis in Creative Nonfiction Writing from the University of Nebraska at Omaha and also a Masters' in English from the University of Calcutta. Currently, she edits 'Learning & Creativity', an online mag and also manages the editorial division of The Blue Pencil. Recently she has been featured by Dark Moon Poetry, Dallas, on the occasion of the Women's History Month in March 2018. She is a recipient of the Reuel International Award 2016 for her translation of Tagore's 'Nastanirh' (translated as The Broken Home), and also a recipient of Reuel International Award for Poetry, both instituted by The Significant League. Being a mother of two young girls, she is also passionate about eradicating gender discrimination and child abuse.
SHARMILA RAY –
Sharmila Ray is an Indian poet and non-fiction essayist writing in English, anthologised and featured in India and abroad. Her poems, short stories, and non-fictional essays have appeared in various national and international magazines and journals since the late 1990s. She is an Associate Professor and Head of the Department of History at City College, Kolkata.
She was on the English Board of Sahitya Akademi. She was the editor of The Journal (Poetry Society India) and looked after a column 'Moving Hand Writes' (Times of India, Kolkata). To popularize poetry she has experimented with her poems with sarod (Indian string instrument) and the result is a CD— Journey Through Poetry And Music (Cozmik Harmony). She has also performed with noted singer, director, actor Anjan Dutta- songs and poetry.
She had been invited to International Struga Poetry Evenings in Macedonia, where she represented India, and International Poets Meet in Kerala to share the stage with Ben Okri. She was the only poet writing in English from West Bengal to participate in VAK –the first poetry biennial held in New Delhi in 2017.
HENA NAFIS –
Hena Nafis is one of the most prominent nutritionists n the Eastern India and the founder of Nutrience, a nutrition and lifestyle clinic. Over the years, she has been associated with reputed clinics like Apollo Clinic and AMRI, across Kolkata. She is also a respected columnist and nutritionist for one of the leading newspaper of Kolkata.
She graduated with a degree in Food and Nutrition from the Liverpool John Moores University, Liverpool (UK), followed by an M.Sc. in Food Science and Technology from Victoria University, Melbourne (Australia).
Nutrience, her clinic, provides nutrition-centric consultancy to patients of all ages suffering from lifestyle-induced disorders. In the past, she has conducted lectures and workshops with notable corporates like FICCI, Pepsi, Futuresoft, and Wipro, among others. She is an entrepreneur par excellence with entrepreneurial ventures like 'Eat Good Food', a nutritional restaurant serving food with nutrition and 'Nutrience', a kid's gym.
RUCHHITA KAZARIA –
Ruchhita Kazaria or Rruh is from Kolkata; India. She is a poet (Writing mainstream political and activism poems in English & Hindustani/Urdu) by choice and a peace activist (Between India & Pakistan) by passion; Aman Ki Asha. By profession, she is an advertising and branding consultant, who has played a pivotal role in launching many renowned brands – Lilliput, Fame Cinemas, Subway, Crocodile, BIG FM (In Eastern India). She has presented her poems in festivals like Apeejay Kolkata Literary Festival in 2016, Tata Steel Kolkata Literary Meet; Kalam in 2016 and 2017, Sampark Literary Festival in 2016, International Kolkata Book Fair, both in 2016 and 2017, 103rd Birth Anniversary of Saadat Hasan Manto and many more. She is also the independent editor of Bloomsbury publishing.
SAIRA SHAH HALIM-
Saira Shah Halim is an educator, writer and poet, theatre personality, corporate trainer and a social activist who's actively involved with causes such as gender equality, justice and women's issues. An Executive Committee member of the West Bengal Federation of United Nations Association, Saira is also a recipient of the Agha Hashr Kashmiri Award for her contribution to theatre at the International Kolkata Book Fair in 2014.
One of her films is 'Ek Khaas Aadmi' which was premiered on NDTV Talkies and can be viewed on YouTube. She's also a motivational speaker, a behavioral and leadership trainer as well as a life coach who's conducted a no of workshops for different organisations across India and abroad.
RAJLAKHSMI SYAM –
Rajlakshmi Syam, both a pianist extraordinaire and a superb fashion designer and one of the rarest gems to create 'Fusion of Melodies'. It includes an eclectic mélange of Western Classics, Pure Indian Ragas, Global Folk Tunes and more. As a cultural ambassador, she has participated in various prestigious shows in India and abroad.
Syam caters to discerning clients both at home and in the fashion capitals outside India. Her work is well known for its gorgeous colours, embroidery, texture, use of handwoven fabrics and handloom cloth that speak of an understated elegance and glamour. Working as a brand consultant for many leading companies in the field of fashion and lifestyle, Rajlakshmi also delights in her activities as a Social and Human Rights activist. A major part of the proceeds from her cultural programs goes to the support of the charity.
An entrepreneur, she has been recognized for her work in the field of both fashion and music and received numerous accolades and awards. Her enthusiasm and originality have been recognized and appreciated both in India and overseas.
MARCI RADIN –
Marci is a social worker who works on behalf of Uddami Computer Training Centre in Kolkata and when not working here she lives in Colorado with her husband. When she is not in Kolkata, or working on behalf of Uddami, she enjoys first-run Bollywood movies playing in her city, traveling around the US with her husband and spending a lot of time hiking in the Rocky Mountains of Colorado.
SUJATA BHATTACHARJEE –
A social worker by passion and profession, Sujata Bhattacharjee has been known for her never-ending support to the poor and destitute. She has been working for many years in this field.
MEGH SAYANTAN GHOSH –
Megh Sayantan Ghosh is India's first Trans woman to win a case, as there are no media reports of any other Trans-woman achieving the feat. The case was a divorce suit and her senior lawyer also moved the court for the case along with her. She plans to stand for the transgender community she dreams to help others, through her legal expertise, who cannot afford the legal expenses. She is positive on the note that the society has come a long way in accepting the change in the way the transgender community is developing but her eyes are on the 'Transgender Persons Bill', and once it is passed she shall be able to stand legally by her community fighting against any wrong.
AISHWARYA BISWAS –
Aishwarya Biswas, who quit her high-profile corporate career, to start her own enterprise, 'Auli' started with 10 customers and now have over 7000 customers worldwide, who depend solely on the Auli range of quality organic products for their skin care, hair care, and overall wellness. Driven by the passion for wellness essentials, Auli's pamper packages and in fact, every single product is an echo of not only Aishwarya's heart, soul, and core wellness beliefs but also of her expertise and experience.