Babu Culture as the tagline says "where Kolkata meets Calcutta" has brought forward some special menu for the Bhoj (food) lovers.
The festive will start from 14th April 2023 till 16th April 2023.
They have a first come first serve basis.
Menu:
Veg Thali
Aam Pora Shorbot
Mochar Malai Chop
Aloo Tomator Chop
Gondhoraj Lebu
Basmati Rice
Ghee
Bori diye Shaak Bhajaa
Jhurjhure Aloo Bhajaa
Sona Moog Dal
Potol Kalojeere Bata
Narkel diye Lau Ghonto
Luchi
Komola – Curry Pata Aloor Dom
Aamshattyo Kancha Lanka Polao
Enchor er Kosha
Phoolkopi Aam Kashundi
Chhana-r Bahaari Dalna
Kancha Aam er Chatni
Papor Bhajaa
Payesh
Rajbhog
Mishti Paan
*@Rs.649/-*
GST applicable
Bengali New Year Menu (14th, 15th and 16th April)
Non Veg Thali
1. Aam pora shorbot
2. Moshla Fish Fry (Bhetki)
3. Gondhoraj Lebu
4. Basmati Rice
5. Ghee
6. Bori diye Shaak Bhajaa
7. Jhurjhure Aloo bhajaa
8. Sona Moog Dal
9. Narkel diye Lau Ghonto
10. Borishali Murgi Bata
11. Luchi
12. Komola Curry Pata Aloor Dom
13. Aamshattyo Kancha Lanka Polao
14. Golda Malaikari
15. Babu Barir Khaash Kosha Mangsho
16. Kancha Aam er Chatni
17. Papor Bhajaa
18. Payesh
19. Rajbhog
20. Mishti Paan
*@Rs.749/-*(Sodepur) / @ *Rs.849* /- (Gariahat)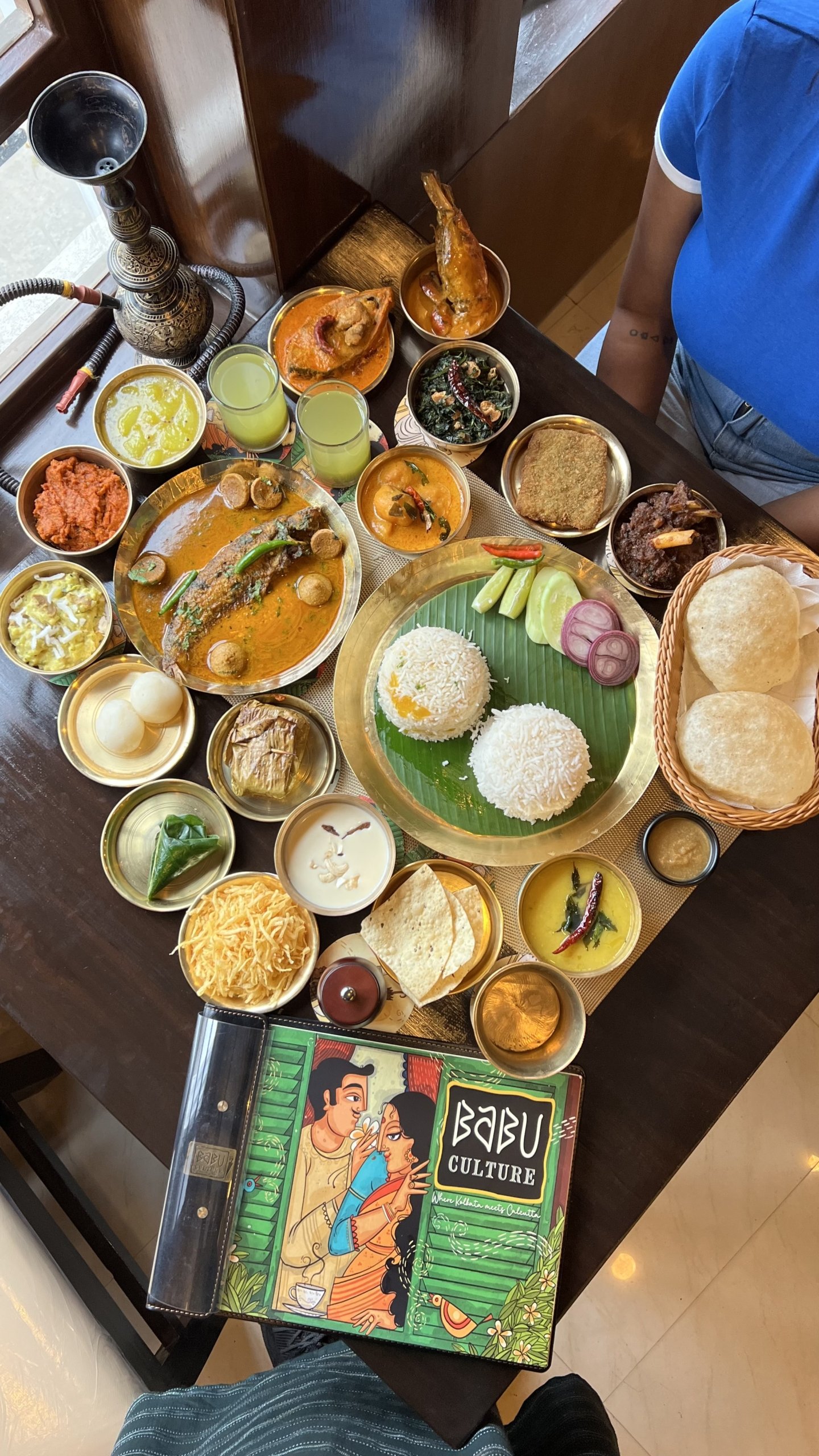 Add on:
1. Dhakai Sorshe Ilish : Rs.400/-
2. Dhonepata diye Tel Bori Pabda : Rs.150/-
3. Bhetki Paturi : Rs.150/-
*** GST extra (as applicable)
There is an inaugural offer of ₹100 off at Sodepur Outlet. Price of Poila basic thali for Gariahat is 849 plus tax. While that of Sodepur is 749 plus tax. One can add Dhonepata diye tel bori pabda or Bhetki Paturi for ₹150 and Dhakai Shorshe Gariahat.
So, to grab your festive offer foot into the restaurant.
Address:
7/2B Dover Lane, Opposite Dover Lane Post Office, Gariahat 700029.
Sodepur Outlet:
75 Barasat Road, Anandalok, Opposite Panihati College, Sodepur.