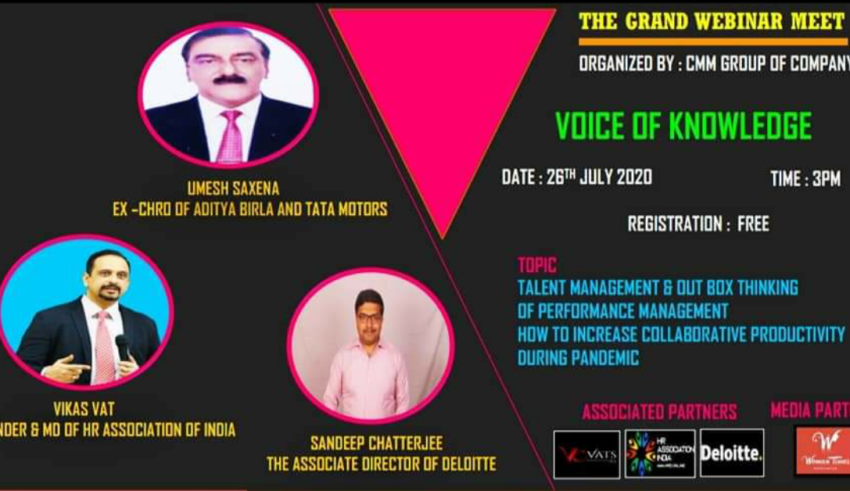 Covid19 attack has hit hard the humanity and has compelled to rethink the strategies of survival so far. Both personally and professionally all are trying their best to overcome this situation. And to help in this endeavour CMM group had organised a webinar meet on 25th July 2020 'VOICE OF KNOWLEDGE'.
Through this webinar, the organiser tried their best to provide knowledge and ideas for survival through some of the industry experts so that corporate people can handle the situation in the best possible way.
The panel of speakers in the panel were –
Vikas Vat, Founder & MD of Vats Consulting and HR Association of India,Sandeep Chatterjee (Associate Director of Deloitte).
Some renowned guests from the forum were, Vikas gupta – Founder and Chairman of Virtual Group,Chitaranjan Kesari – Ex CIO and IT head of Kanakia Group, Sanjay Muthal – CEO of Kontempore leadership solution and services, Pashhupati Kunddu – Chairperson – Internationalism of JCI (Kolkata, Mr.Naveen Prakash – Co-Founder of Global Logistics.
The key point of discussion was the survival strategies during the pandemic, the changes that must be ensured, and challenges to be faced.
A nice initiative by the organisers as people struggling through this time will get enlightened from the industry experts.