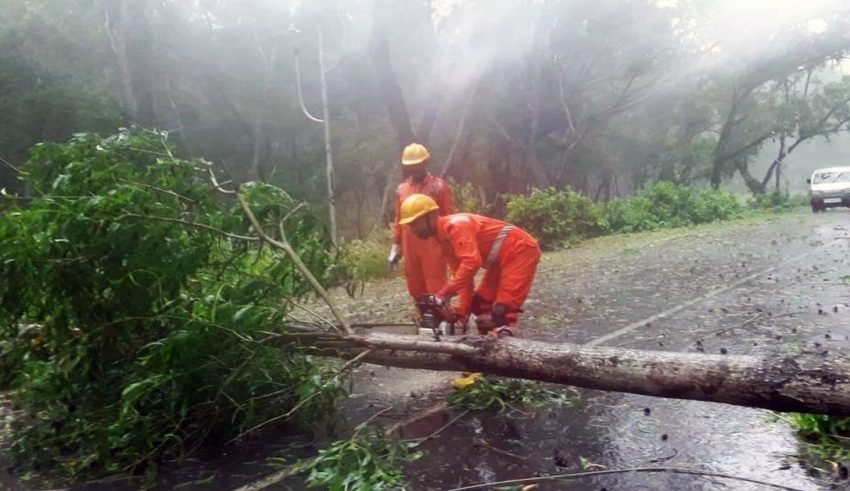 Cyclone Amphan Image Source: Social Media
Desk Report: Cyclone Amphan (or UM-PUN) has caused much devastation in Kolkata.  With trees uprooting, to lamp posts falling off, the city witnessed one such after many decades. Orissa being a coastal area has fairly an idea about such storms. There are 72 deaths in West Bengal with 17 in Kolkata. On the other hand, officials report 3 deaths in Orissa.
CM Tweets:
Hon'ble CM also speaks of her first experience of such a cyclone. She tweets that nothing can dampen the spirit of Bengal. The state will remain united and will fight it. She also invites Hon'ble PM to visit the city to witness the damage.
Also Read: AMPHAN, the super cyclone is taking a toll on lives
Orissa Govt. appreciates IMD Director-General:
Orissa Government has thanked IMD Director General Mrutyunjay Mohapatra for his accurate information and warnings. West Bengal, on the contrary, faced such a situation after many decades. People were not prepared for this. Though a team of NDRF has been deployed to work towards restoring the normalcy of the city, It is expected to take at least a few days for everything to be back to normal again.
"Last time when Foni came, people were scared but it went past the city. Hence, this time also people thought that Amphan will not affect much. This casual tendency has also been responsible for much domestic damage", says Deepali from North Kolkata.
The cars were seen bumping with one other, broken windows, waterlogged streets, water pumping into the households, buses tilting on one another, and houses with tin-sheets losing their shelter. A 50-year-old man from South Kolkata says, "In my lifetime this is the most horrifying cyclone I have ever seen. The windows of my house have broken. It is a nightmare for us."
The cruel sound of the storm states the purpose of the visit. It is damage and damage everywhere. The super cyclone has headed towards Bangladesh. Heavy rainfall alert is declared in Assam and Meghalaya.