Women empowerment has been a talking point for a decade yet we see that only a handful of women manage to define the term in the true sense. However, the best part of the process is that lots of women are coming forward to chance on their expertise. 
Through this section, we try to meet and talk with women who are not just empowering themselves but also empowering others. This week we have Dipanwita Roy, owner of Mayurakshi Boutique, with us. A successful woman in her own right, she has charted a path for herself. She started her journey in 2018. In a matter of two years, she has gained success with her thoughtful choices.
Every woman has a story, as we all know. The women who are into business, have a lot more stories to share. Come let us take a quick peep into her ordinary but life with a story.
AM: How was your childhood?
DR: I was born and brought up in Bandel. Studying in Hooghly girls' college followed by graduation from Hooghly College, I shifted to Bangur Avenue, after marriage. As then early marriage was on the cards of a girl my life also could not escape it. I got married a bit early, so I completed Part – II after marriage. My childhood was really beautiful. Before marriage, I was a free bird and after it, I became a housewife. However later, I joined a school and taught in two schools in the meanwhile.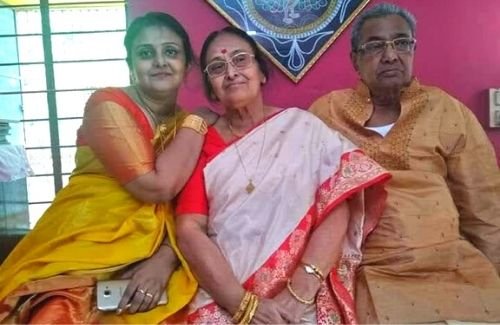 AM: How did you start this business?
DR: I started Mayurakshi Boutique in April of 2018. I always wanted to deal with fabrics. All women have a strange attraction towards sarees and jewelry. After marriage, I could not start. But, late in 2017, I met Srabanti Chakraborty with whom my soul got connected and we started the business together. From logo to name, everything came about with her in tow. She also stays in Bangur. We shared a lot, then one fine day we started the brand. We both a common interest in sarees and jewelry.
AM: How was the encouragement from family?
DR: Everyone supported me from my paternal side and in-law's side. My son also supports me a lot. He is proud to have me as his mother. The journey was well-started. However, due to Covid, we lost one year. 
So, Dipanwita started with cotton sarees, mulmul sarees, mix and match cotton. We came with more silk, tussar, handloom after a certain point in time. 
AM: What did you do during a lockdown?
DR: Gossips! (she laughs) We discussed our plans. In 2020 during the Durga Puja, business was picking up pace. I sold many sarees online through my WhatsApp group and Facebook page.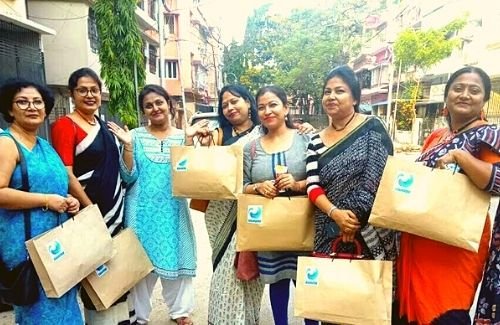 Let us find out what Mayurakshi has to offer us. She has a wide range of cotton. These sarees are available in a wide range of colors. These are ideal for summers. You will find sarees with applique, hand-painting, and embroidery. The sarees are priced at Rs. 700 onwards. Mayurakshi also stocks many Bagru-printed Mulmul sarees. From Silk Cotton sarees, better called Sico sarees to BP Cotton as well, from Kantha stitch on the anchal to block prints she has all. You will get some gorgeous sarees in the range of Rs 1000-1500.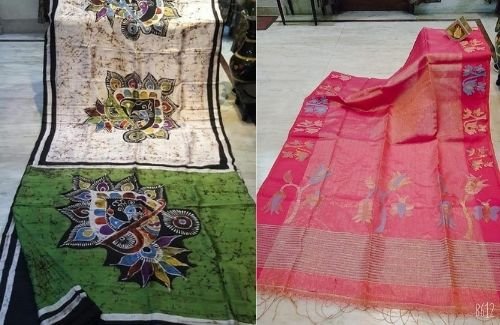 She also has cotton blouses that are ideal for summers. With a colorful saree collection, one can find sarees in Cotton material, with jamdani prints. The anchals have all the work. The sarees have butas, and butis. Apart from the material, the embellishments are worth mentioning. Mayurakshi Boutique has sarees from 18- 80-year-old ladies. Women from a younger age bracket are going for light-colored sarees as well. 
I also have a lot of handlooms, with wide borders, in awesome combinations. There are a variety of colors to choose from. The sarees range from Rs 1000 onwards. 
Please find some of the additional range of exclusive sarees available and their price range in detail. 
Handloom – cotton with soft jamdani work Rs. 2600-3000.
Handloom –Rs 1500- 2500
Tussore –Rs 3500 – 4500
Silk pure –Rs. 2800-3500
blouse (sleeveless) Rs 550 / Designer cotton Rs 700/-
Muslin Rs 4000-7000
Khadi Cotton Rs 1800- 2500
To get featured on our website connect with us at [email protected]