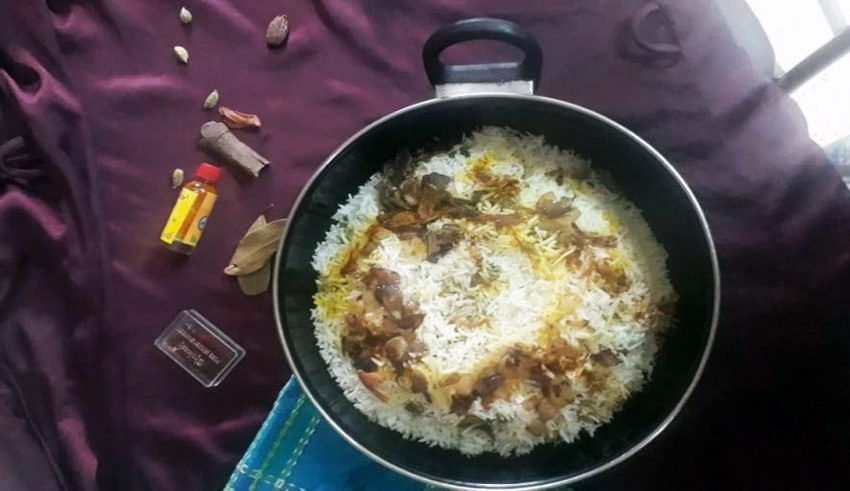 Eid is that time of the year when people engage in the food fest. Every festival across the globe has some distinct dishes without which the whole fest stands dry and out. Biryani has been introduced by the Mughals in India. Today I will present a Biryani recipe. I have named it Awad-e-Biryani.
Ingredients for Chicken Marination:
Chicken leg pieces – 4 pcs
Curd – 4 tsp
Black pepper powder – 1 tsp
Ginger paste – 1 tsp
Garlic paste – 1 tsp
Biryani Masala – 3 tsp
Sugar – 1/2 tsp
Ghee – 2 tsp
Turmeric powder – 1/2 tsp
Kashmiri Chilli Powder – 1/2 tsp
Now, take the chicken pieces and mix all of the above ingredients to marinate it. Keep it for at least 2 hours.
Almost all of these ingredients will also be required for the other preparations as well. Keep two things ready for use.
Take 1/2 cup milk, add few Kesar strands and 1 drop of Ator.
Take about 1 cup of Onion, cut into long thin pieces for Onion barista. Fry it and keep it aside.
Also Read: Noorjahani Pulao and it's tryst with Mr Apple
Ingredients and Process for the Rice:
Rice –  500 gms (Soak the rice for 1 hour)
Ghee – 1 tsp
Cardamom (Elaichi) – 3 to 4 pcs
Cinnamon (Dalchinni) – 2 sticks
Clove (Laung) – 3 to 4 pcs
Bay Leaves – 4 pcs
Lime Juice – 1 tsp
After the rice is soaked for an hour, rinse the rice in a colander. Take about 2 litres of water. Add ghee, cardamom, cinnamon, clove, bay leaves, and lime juice to the water. Boil it for some time and when the vapour comes out add the rice to it. Cook the rice till it is 80% done. Do not cook it fully. Take the rice out, and spread it on a flat utensil till it cools.
Chicken Preparation:
Take a pan, 2 tsp ghee, 4 tsp mustard oil and heat it. Add bay leaves, cinnamon, cardamom, clove, 1 minced tomato, 1 minced onion, 1/2 tsp ginger, 1/2 tsp garlic paste and saute it. Then add 1 tsp Biryani masala, sugar, salt and Kashmiri chilli powder as per one's requirement and taste. Now stir the mixture till it leaves a fragrance. Then add the marinated chicken and cook for 10 minutes. Switch off the gas and keep it aside.
Awadh-e-Biryani Preparation:
The most important part of the Biryani is also the layering. So, take a pot or cooker or a deep pan and add 3 tsp ghee. Take cardamom, cinnamon and crush them. Add the crushed cinnamon and cardamom. Then add one layer of rice, 2 pcs chicken, and on the top of it sprinkle biryani masala, fried onion (kept aside), milk, and 1/3 tsp rose water. Repeat this layer again. And at last, add one layer of rice and similarly sprinkle all the ingredients done before along with some coriander leaves and 5 tsp ghee. Remember you are not supposed to put the gas on during the preparation.
If this is prepared in a deep pan then put it on a flat Tawa, switch the gas on. Let the preparation cook in a low flame. It will take 20 mins for it to be fully cooked. Switch off the gas and take another 20 mins as stay time. Serve this hot when your guests visit during the Eid time.
This quantity is for 4 people. The ingredients should be adjusted accordingly.