Sangvi Dance Centre celebrates 10th anniversary.
Kala Mandir witnessed a breathtaking sight on July 1st as it overflowed with excitement for the much-anticipated annual concert of Sangvi Dance To Express. The venue was jam-packed with a diverse range of participants, spanning across all ages from three to sixty, who captivated the audience with multiple consecutive spellbinding dance performances.
Renowned for its rich legacy of a decade, this esteemed studio has continuously introduced Kolkata to an array of exquisite international dance forms, embracing even Western disciplines. Undoubtedly, Sangvi Dance Center stands tall as the city's foremost dance academy. Centered around the theme of "Live, Love, and Dance," the concert truly celebrated the essence of these three interconnected aspects.
The eagerly awaited grand finale event, Sangvi Moments, commenced with great fervor, graced by the esteemed presence of Dr. R.K. Gupta, a renowned ayurvedic oncologist from Rishikesh. The inauguration took place on July 1, coinciding with the celebration of National Doctor's Day.
The event also saw the honorable presence of CS (Dr.) Adv. Mamta Binani, President of MSME Development Forum WB Chapter; Dr. Garima Agarwal, recipient of Bhaarat Gaurav Ratna and Bravo International World Book of Records Holder for Astrology, Vastu, and Healing; Gagan Sachdev, owner of Bodyline; Shraddha Parekh Agrawal, a respected banker; Vipul Krishna Agrawal, a successful businessman; Mr. Ashish Mittal, Director of Golden Tulip Hotel; Sangeeta Bhuwalka, Director of Sangst Dance Centre; Vineeta Majithia, Director of Sangvi Dance Centre, and various other distinguished personalities. The presence of these eminent individuals added an aura of significance and grandeur to the occasion.
The audience was treated to a mesmerizing display of various dance forms, including Hip-Hop, Jazz, Contemporary, Whacking, Semi-Classical, and Bollywood, among others. The repertoire of Sangvi Dance Centre extends beyond dance itself, as they excel in the realm of fitness by offering invigorating Zumba classes.
The amalgamation of dance and fitness in their Zumba sessions was truly extraordinary, led by their experienced mentor and a team of certified trainers. Specifically tailored for adults, these Zumba classes provided the ideal combination of dance and fitness, serving as a delightful stress-relieving activity.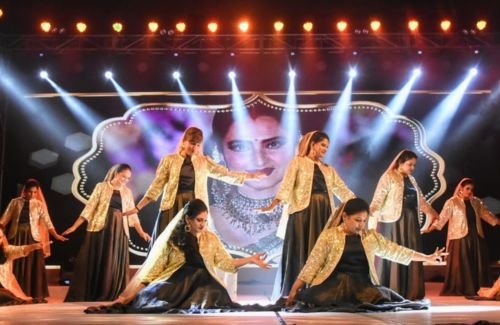 Sangeeta Bhuwalka and Vineeta Majithia, the esteemed Directors of Sangvi Dance Centre, expressed their profound honor in presenting the 10th Annual Show, Sangvi Moments. The event witnessed remarkable participation from over 400 students ranging in age from 3 to 60. Beyond the enthralling performances, such events play a pivotal role in fostering essential qualities like self-belief, decision-making, memory, and confidence among the students. Simultaneously, these showcases nurture their innate spark and creativity.
The strong bond within the Sangvi family fills us with gratitude, and we extend our heartfelt appreciation to all the participants for their unwavering dedication and hard work, which contributed to the resounding success of this remarkable show.