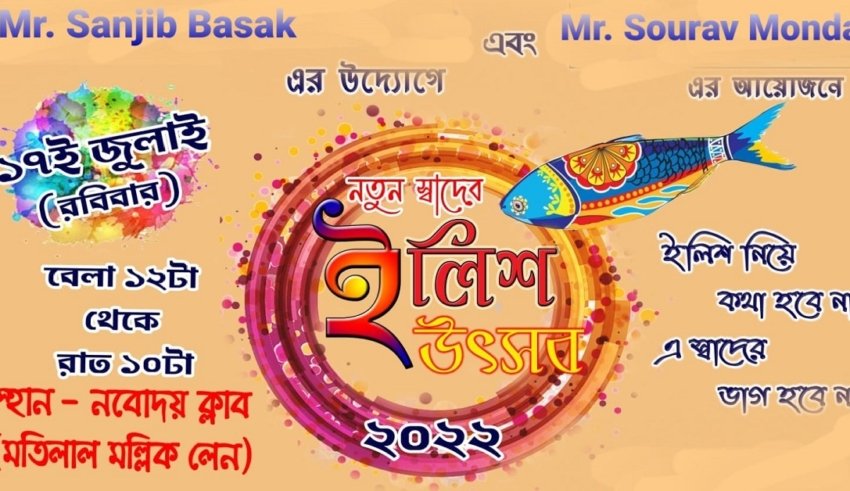 You must have heard of the town called Baranagar. It is mentioned in medieval Bengali literature as well. It is none other than the ancient city of Baranagar in Kolkata. That is at the helm of all the attention. Baranagar is blessed with the lineage of the blessed Sri Chaitanya, Ramakrishna Paramahamsa, Swami Vivekananda, Girish Chandra Ghosh, Sister Nivedita, Rabindranath Tagore, Netaji Subhas Chandra Bose, Manik Bandhopadhyay, and Sishir Bhaduri. They also exist in the history of Baranagar as the trailblazers. Sanjeev Chatterjee's name is equally memorable, and it is also on the list.
Hilsa Fish Festival – Baranagar, Kolkata
The ancient Zamindari houses of this town still bear the testimony of ancient history to architectural works. The monuments of the revolutionaries of the Agni era are still present all over Baranagar. Moreover, this is the first time in the history of Baranagar that a novel Hilsa fish festival will be organized. There is no end to the stories of Bengalis enjoying the smell of hilsa in various festivals forever. The Bengali nation has come to appreciate this silver-scaled fish through multiple dishes.
Therefore, the two main hosts of this Hilsa festival, Sanjeev Basak and Saurabh Mandal, have said, "Hilsha has so much quality that can be prepared with the five spices and with different ingredients. Moreover, you can prepare hilsa with ingredients that few other fishes can match. Some of them are Methi Hilsa, Garlic Coconut Hilsa, Hilsa Hariali, Hilsa Shukta, Hilsa Bhuna Khichuri, Hilsa Biryani, Hilsa Palang, Hilsa Bharta, Hilsa Korma, Hilsa Tok and so on! So, it is Hilsa from the beginning to the end of this food festival.
This is an announcement for all and sundry – "On Sunday 17th July, there will be a royal dinner from 12:00 noon to 10:00 p.m. at the Navodaya Club premises! On the day, various distinguished and accomplished people of the society will be present. And everyone in Baranagar is requested to be present at the Hilsa Fish Festival irrespective of any caste, creed, or religion.
We also request you to be there on this occasion and grace the event with your presence.