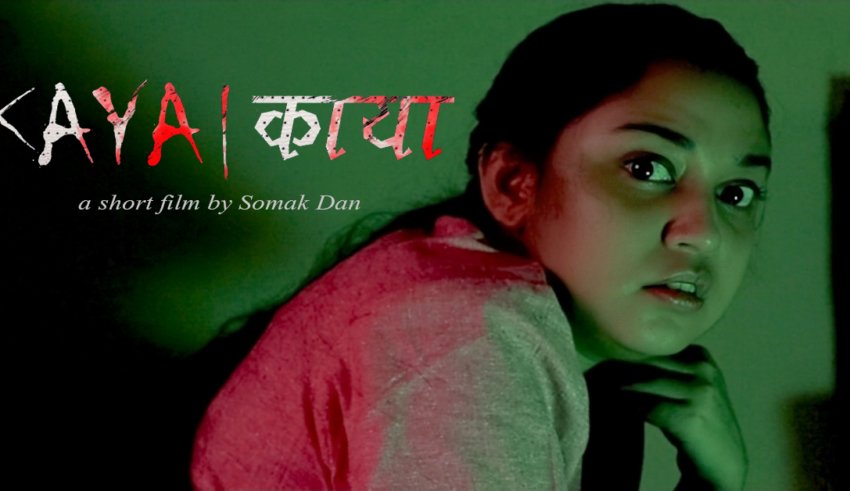 A horror film is a genre of entertainment that tends to highlight supernatural powers. The first-ever horror film as per the internet sources is Le Manoir du Diable in the year 1896 in the United States. However, the trend may have changed in the present Century but the genre has all-time craze.
Horror film – KAYA:
Kaya is one such short film that grips the audience till the end. An approximately 9 minutes short film from Moonbow Entertainment, it is worthy to watch it. The whole plot is constructed around a woman who lives alone in a flat in Mumbai. The woman throughout her stay feels the presence of someone in a room that is locked by the landlord. The calm but chilling silence blended with the loud shouts of the television being played add to the eerie ambience.
Casting, Story & Cinematography:
The whole story has been justified by the newly casted actor Pratibha Kalita, who hails from Assam. Pratibha has done another short film Thanatophobia. She along with her partner of the Moonbow Entertainment, Somak Dan, has been devising scripts. Both of them plan to do more such films in future.
Pratibha says, "I am looking forward to work in the Bollywood hence I am polishing my skills. Through these short films, I want to show my talent to the world. Somak is very talented and it is really fun working with him."
Somak Dan is the cinematographer for the short films. Though it is arduous to shoot the films on the phone yet he does an excellent job. The film teaches every creative mind to make short films with a minimum budget. The actor also tells that they are coming up with another script which seems will be liked by all. They also plan to send their short films to some film festivals.
While Somak and Pratibha keep shooting you watch the short film and kill the boredom of this lockdown. Happy watching!