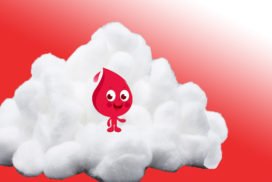 It is not always easy to open up about things that are socially unacceptable or issues that are hushed up for the sake of maintaining secrecy but ignorantly that secrecy leads to ignorance and social taboo. It is time that women break the shackles and talk about things that are natural to women. This #HappyToBleedcampaign celebrates the pious menstruation cycle of women which is an indication of health, birth and creation. Read about Alisha Sarkar's experience as she shares her experience of her first periods.
First day of secondary school is always an exciting and intimidating experience because it is us as juniors taking our first step towards becoming seniors. Well everyone remembers that day and if not everyone, at least I do remember that day, because that was the day of inception of my womanhood.
I came back home from my first day in secondary school all tired and exhausted and headed straight to the bathroom to freshen up. To my shock, I found blood and I was scared to death of blood. I rushed to my mom who to my surprise didn't scold me for playing and injuring myself which was the usual case. Rather she made me sit down and started explaining everything about menstruation and puberty. I was pretty naïve so I had no knowledge about menstruation. From how to use pads to what is puberty all about my mother taught me all.
I felt the joy and excitement of a kid who succeeds in catching a butterfly. I was utterly amazed to know about new things that are and will be happening to my body. Eventually it turned out to be a painful experience as it continued for 7 days combined with the agony of stains.
Years later, I have now embraced it as a part of my body. I feel it is high time that our society embraces it as a natural phenomenon too. Menstruation is nothing unnatural and should be a subject one can talk about with as much ease as they would when talking about eating or walking.
If you want to share your experience email us at [email protected]