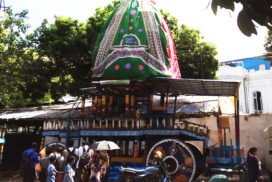 Woman Times Desk, 1st July 2019, Kolkata: ISCKON is organising the 48th Rathayatra and the Rathayatra Mela for 7 days from 5th July to 11th July 2019 at Brigade Parade Ground. The event will be inaugurated by Hon'ble Chief Minister of West Bengal, Mamata Banerjee and Smt. Nusrat Jahan Ruhi Jain and her husband will also be present among other dignified guests.
The Pahandi Vijay, where the Lord Jagannath will come down from the temple and start on 4th July 2019 morning at 7.30 am from ISCKON Temple in Kolkata. The Rathayatra will start at 12 noon from Hungerford Street near Minto Park 3C Albert Road (ISCKON Temple). The route of the Rathayatra will be –
Hungerford street -> A.J.C Bose Road -> Sarat Bose Road -> Hazra Road -> S.P.M Road -> A.T.M Road -> Chowringhee Road -> Exude Crossing -> J.L Nehru Road -> Outram Road -> straight to Brigade Parade Ground.
The General Manager and Spokesperson of Iskon, Shri Rahul Radha Raman says, "Again on Ulto-Ratha, that is on 12th July 2019, the yatra will start at 12 noon from Outram Road (near Park Street Metro) and will follow the below route :

Brigade Parade Ground -> Outram Road (turning left to) -> J. L. Nehru Road-Dorina Crossing -> S.N. Banerjee Road -> Moulali Crossing -> C. I.T Road -> Suhrawardy Avenue -> Park Circus 7 point crossing -> Shakespeare Sarani -> and back to Hungerford Street-3C Albert Road (ISKCON TEMPLE )."
This year the 48th Rathayatra will highlight the issue "to care for those who once cared for us". The main aim of the theme is to focus on the treatment that the elderly population are getting nowadays and spreading the awareness among people, as Srila Prabhupada has mentioned that caring the elderly will lead your soul to salvation. They will highlight the issue by engaging them in different forms of 'Prabhu-seva'.
Talking to Swami Ananda Mohan Das about the increasing problems of the old aged people, he says, "People have become more intolerant and are after short term happiness. They need instant happiness without considering its far-reaching outcomes. The old people have a treasure of practical experiences of this world."
ISCKON organises Rathayatra in over 600 cities in over 150 countries worldwide. Srila Prabhupada, the founder-acharya of ISKCON started the first ever Rathayatra in San Francisco on 9 July 1967. Srila Prabhupada started conducting Rathayatra from his early childhood when he was six years old (his name was Abhay then). People staying along the Rathayatra route can offer fruits and flowers to the Lord.
It is stated in the 'Shastras' that anyone who sees the Deities of Lord Jagannath,  Baladev and Subhadra during their Rathayatra procession will be quickly rid of his miseries and is bound to reach Vaikuntha-Loka, the eternal, spiritual world where anxiety does not exist.