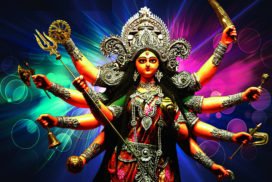 Durga, the symbolic powerful deity for the Hindus, which also appears in nine different forms, each of which is endowed with unique powers and traits is a mark of mythological history. Together these nine manifestations are called Navadurga or nine Durga. Hindus believe that worshipping fervour will lift the divine spirit and fill them with renewed happiness.
Let us look through the different powerful forms of Durga –
Shailaputri – The name means 'daughter of the mountains' It begins with a night of celebration and worship in honour of Durga's avatar Shailaputri. It is considered to be the purest embodiment of Durga and the mother of nature.
Brahmacharini – The name itself means "one who practices devout austerity." Hindus believe that she endows happiness, peace, prosperity and grace upon all devotees who worship her.
Chandraghanta – Chandraghanta is the third manifestation of Durga representing peace, tranquility, and prosperity in life. Like Maa Durga, she has multiple limbs usually 10 each holding weapons and three eyes. 
Kushmanda –  Kushmanda is the fourth form of the mother goddess and her name suggests as the "creator of the universe." She is significant because it is believed that she represents the sparkling light that she brings to the world. She is the one who brought light to the dark cosmos. Kushmanda rides a lion symbolizing strength and courage in the face of adversity.
Skandamata – She is worshipped on the fifth day of Navaratri emphasizing her our and divine nature. She is seated on a lotus and has four arms and three eyes. It is believed that she grants blessings to the Hindu faithful.
Katyayani – Hindus believe that she can bestow a sense of calm and inner peace upon all who worship her.
Kalaratri –  Like Kali the goddess who destroys evil, Kaalraatri has black skin and is worshipped as a protector of the Hindu faithful, one to be both honoured and feared.
Mahagauri –  Hindus believe that by paying homage to Maha Gauri all past present and future sins will be washed away, imparting a deep sense of inner peace.
Siddhidatri – Hindus believe that she bestows blessings upon all deities and devotees of the faith. It grants wisdom and insight to those who appeal to her. It is the final form of Durga as celebrated on the final night of Navaratri.
In Hinduism, the Goddess Durga also known as Shakti or Devi is one of the faiths most popular deities which is a protector of all and is good and harmonious in the world. Among her many avatars are Kali, Bhagvati, Bhavani, Ambika, Lalita, Gauri, Kundalini, Java and Rajeswari. Durga puja is one of India's biggest festival celebrated by the Hindus.
Riyanka Chatterjee, a student of Communicative English in Gokhale Memorial Girls' College, is an enthusiast writer, elocutionist, and a voice-over artist. She loves to explore different issues and talk about them.