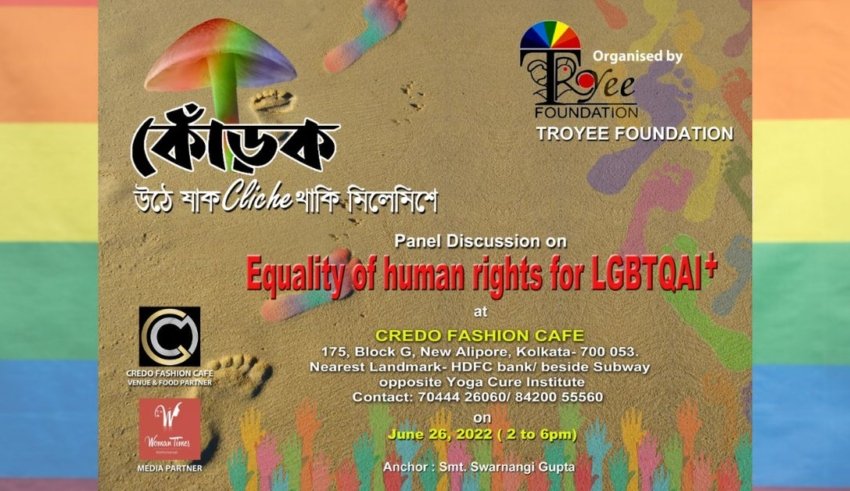 Korok takes pride in the Pride month
Pride Month is celebrated that started in 1969 to honor Stonewall Uprising in Manhattan that was the starting point for the Gay Liberation Movement in the United States.
June is proudly known as 'Pride Month' when the LGBTQA+ community gets attention and their problems are highlighted, which the world refuses to accept. Keeping this in mind, Shree Ghatak, the founder of Troyee Foundation and a member of the West Bengal Transgender Welfare Board, organizes the event – 'KOROK' on 26th June 2022 at Credo Fashion Cafe, Kolkata.
The Hon'ble Cabinet Minister for the Department of Women and Child Development and Social Welfare of the Government of West Bengal, Dr Sashi Panja will attend the event. The whole event will be conducted in her presence and with her support for the event.
Shree says, "This event will represent the LGBTQA+ community to create awareness and discuss about the current condition of the community. The problems and possible solutions will be discussed and acted upon. The purpose for the event is to get the equal status for the community which is looked down as minority. It calls for equal human rights for LGBTQA+ in all forums and aspects so that they live their life with dignity and awe."
Eminent personalities like – Keya Das (Councillor), Dr. Arijit Neogi, Indroneel Mukherjee, Avik Chowdhury, Mallar Ghosh, Mallika Ghosh, Mimi Das, Ranajit Dey, Pamita Sadhukhan, and Poulomi Chowdhury will be present in the event.