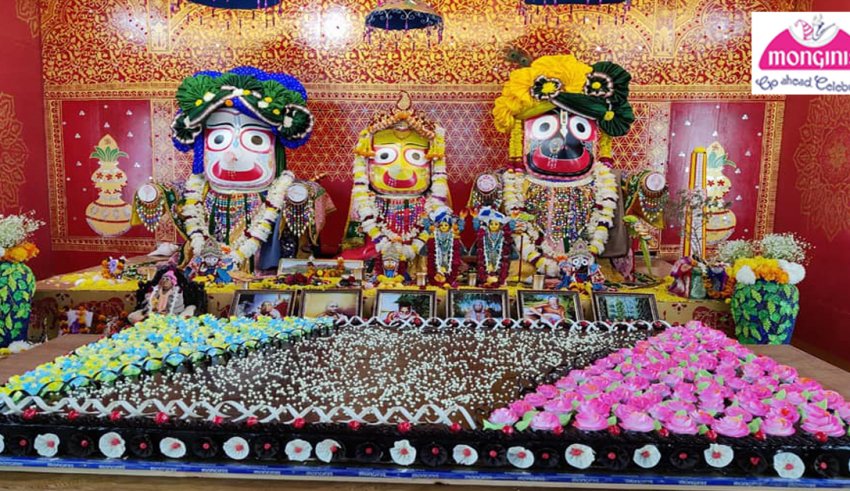 Woman Times Desk – ISKCON since decades have been the disciplined centre for serving Lord Krishna and His devotees. The stream of power radiates across the globe creating millions of ISKCONites preach the powerful life path. Recently, the establishment of Mayapur centre as the World headquarter has opened more scope for divine connection. This winter Mayapur sets out to celebrate Christmas with their Gurukul children.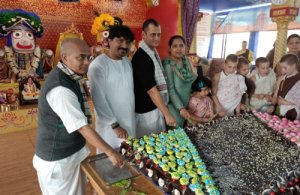 Monginis indulges in the celebration at the International Headquater of ISKCON, Mayapur, Nadia. The renowned cake brand prepares pure vegetarian cake of 50 kgs before Lord and His disciples. The cake is 6 and 1/2 feet, with toppings of Tulsi leaves. Without Tulsi leaf, any Prasad is incomplete to be offered before Lord Jagannath. The desperate effort to connect to the divine source and offer Him absolute pure vegetarian cake, the team of Monginis headed by the owner Mr Prasenjit Saha and the Director, Mrs Sutapa Saha travels to Mayapur today morning.
The cake is prepared before Lord Jagannath and the young disciples of the Gurukul. The children are delighted to savour the Christmas special Maha Prasad of the Lord. While asking about this to the Cake giant owner he chooses to stay away from the limelight calling this a pure devotional connect of his and the Monginis family.
This is a historical offering to Lord Jagannath, Balaram and Subhadra as the authority never allowed outside food to be offered to Lord. However, Monginis was successfully allowed to prepare the 100% pure vegetarian cake for the occasion inside the ISCKON temple at Mayapur.