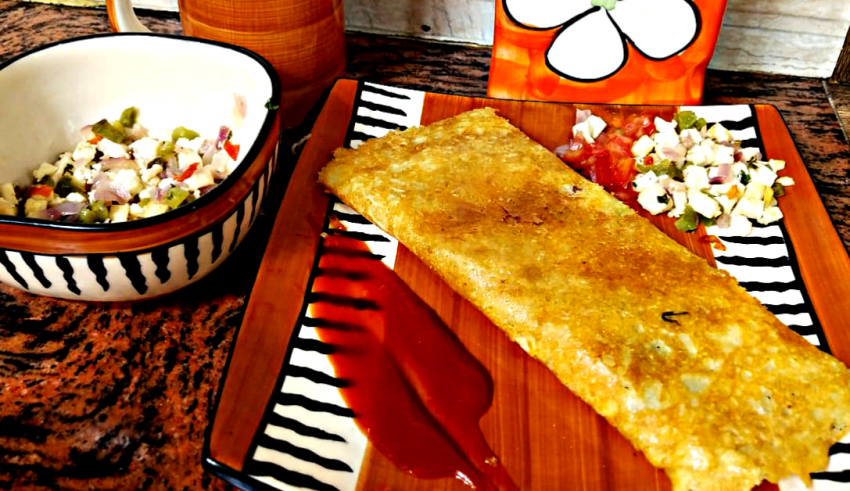 "Chilla…Maa I want Chilla", says the little girl to Aparajita Ghosh. Aparajita Ghosh is a culinary-art lover and a musical person who sings and orates well. Lockdown has almost exhausted everything in her house, nothing is like before but her little one is hungry for 'Chilla'.
Universally mothers are considered as the epitome of love and care. And in India mothers' love flow through the culinary world. I always try to make something new but healthy. This lockdown has taught us that immunity is the only answer to the COVID19 problem. Being a mother myself, I really understand how much a mother is pained to see her child in illness. So, today I will make something healthy and tasty for all the kids.
I have prepared 'Moog Daaler Chilla' for the little ones.
Ingredients for Moong Daler Chilla:
Moong Dal (soak it for at least 2 hours) – 2 cups
Paneer – 50 gms
Onion (diced)
Chilli (diced)
Ginger – 1/2 inch
Garlic chopped – few cubes
Dania (Coriander) Powder – 1/2 tsp
Tomato – 1 pc
Capsicum – 1/2
Coriander leaves
Lime 1/4
Mustard Oil
Salt as per taste
Process for Chilla:
Take the moong dal, ginger and garlic in a mixer grinder with 2 tbsp water. Paste it, if consistency is very thick you may add some water.  Add oil in the frying pan, take a ladle full batter and pour on the frying pan. The thickness should be minimum to make it crispy. Switch the gas off and let it fry till it gets golden brown.
Process for the Stuffing:
Take a non-stick Kadai and add 2 tsp refine oil, add all the minced onion, capsicum, ginger, garlic, green chilli, and tomato. Fry it for some time and then add salt as required. Add paneer cubes and coriander powder to the vegetables. Now, add the stuffing on the chilla and fold it from both sides. Serve it hot with sauce or pudina chutney. You can also have buttermilk or iced tea with this. for children serve the chilla with more stuffings by the side of the plate.
This dish is high on protein, lighter to digest well and quickly. Try this at home.