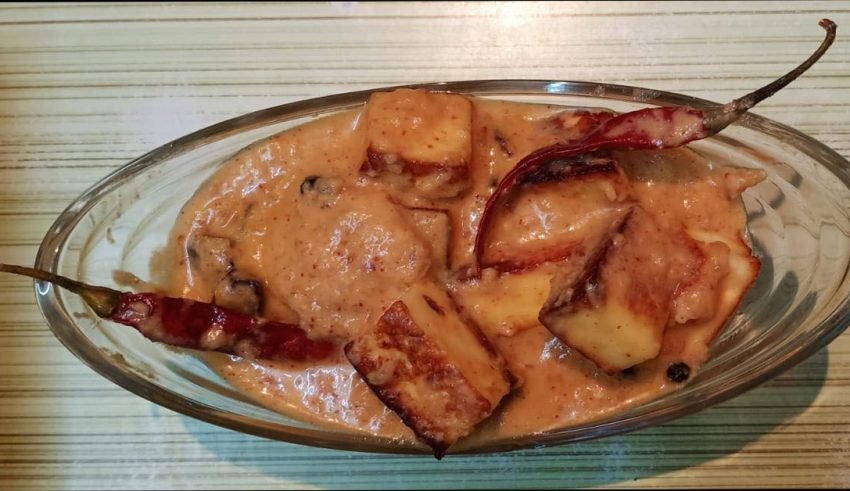 Paneer is actually known as fresh cheese. This is a famous Indian dietary item filled with health and nutrition. Filled with milk protein, this item is loved by most of the foodies. Paneer is usually made by curdling milk and is often soft and chewy in nature.
Ingredients for Paneer Rezella:
Paneer – 250 gm
Curd – 150 gm
Cashew Paste (kaju Bata) – 2 tsp
Onion paste – 1 big pc
Kashmiri Chilli powder – 1/2 tsp
Refine Oil as per required
Dry Whole Red Chilli – 2 pcs
Black Pepper – 6 pcs
Whole Garam Masala – as per requirement
Salt and sugar as per requirement and taste
Kewra Water – 2 drops
Process:
Cut paneer into cubes proportionately, and fry it in a pan till it is lightly brown. Then soak the fried paneer into hot water for some time. Rinse it properly after a while. Crush the whole garam masala before using it for the cooking. Take another frying pan and add refined oil.  Heat it for a while, add the crushed garam masala and onion paste to it one after another keeping few seconds interval. Keep the flame low while cooking this recipe. Take a separate bowl, add curd, cashew paste, salt, sugar, whole black pepper, Kashmiri chilli powder and mix it well. Add this mixture to the frying pan that is already on the gas. Then add whole dry red chillies and paneer cubes to it. Let it boil properly. While the gas is on stir it for some time. At last, switch off the gas and add 2 drops of kewra water. Keep the dish on stand by time of 15 minutes. Take out, garnish it with anything you like and your Paneer Rezella is ready.