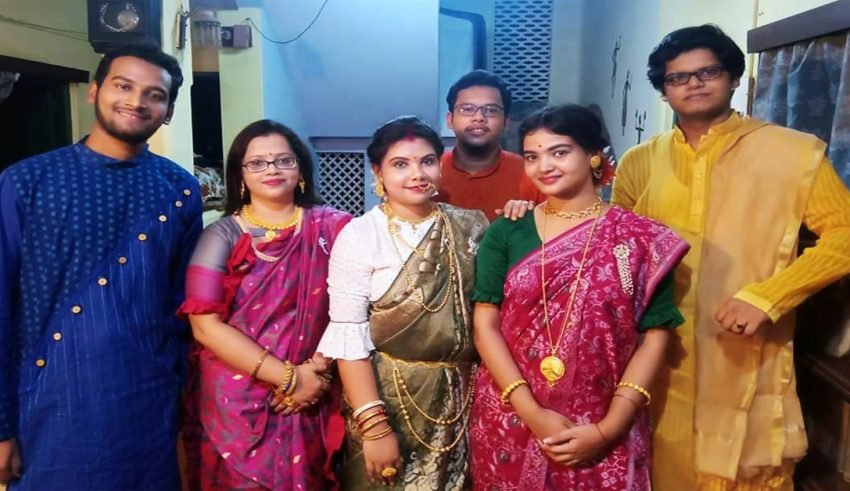 Social media is a new family we belong to. Life is a celebration and finding reasons to keep calm during this lockdown is a severe challenge. But the social media group Khelaghor is all geared up to stay mentally healthy. On the auspicious occasion of Tagore's birthday, Khelaghor has come up with online celebrations.
"I am delighted to participate in this Thakurbarir Saaj, which is as old as 150 years. All the group members expressed their love for my participation", says Mishore Kanti Dutta.
The online program started in the morning. Everyone performed on their respective rooftops. The program started at 7 a.m. with an opening dance by Santasree and Sweta. Then one after another performance followed. The performers were – Saborni, Arpita & Rakhi, Suchandra, Ranjana, Sudeshna, Somrita, Achena, Suchismita, Madhumita, Ayan, Pritam and Ranjanya.
Mrs Mita Dutta says,
"I thank Khelaghor for bringing such innovative ideas and events to keep ourselves busy with productive work."
Also Read: Facebook Group: mental relaxation amidst lockdown
The evening program also had a distinct element of Tagore. Presented by many performers like – Mishika, Banhishikha, Sourav, Sanchari, Moumita et al. The whole the group was smeared with the fragrance of the legendary Guru.
Special attraction like Thakurbarir Saaj, where couples of all age participated. Single men and women also dressed themselves up in a way Tagore may have done. There has been family participation also, like almost all the members of the Sen family performed live, named 'Hothat Dekha'. Suchandra Das Sen, Riuparna, Subarna, Rittwik, Debojyoti and Soumjyoti Sen were the performers on behalf of the Sen family.