The first Indian War of Independence occurred in 1857. This was the beginning of a long and slow evolutionary process for a silent economic revolution called khadi. The fabric has been a support for the artisans widely but somewhere needs more attention with the globalization and western influence on our attire needs. Khadi – the thread of Swaraj curated by Vayjanti Pugalia and organised by Sonali's Cubo and FICCI FLO, Kolkata.
Message from the Curator:
"My company initiates dialogue, workshops, pageants, and awareness programs in different verticals like youth, transgender people, Indian cuisine or heritage and culture. When I am doing my research I can see that there should be a bridge between the rural community and the urban market. And that is where I collaborated with the FICCI FLO of Kolkata because they have a common belief. The organization intends to provide digital literacy to these rural artisans and make them more efficient. So that the negativity that they feel that we cannot sell on ecommerce, they can overcome that and become direct sellers. And it aligns with my concept because I always work for Indian heritage, culture, and cuisine." says the founder of Sonali's Cubo, Vayjayanti Pugalia.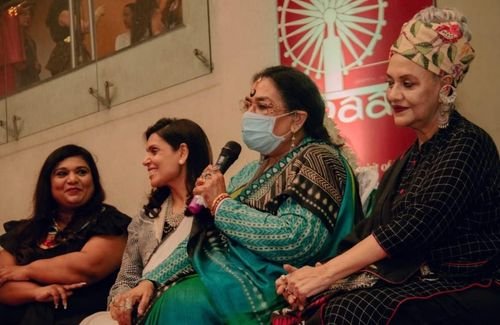 It is important to rehydrate for the upcoming youth, and it is important to visit your roots. It's important to talk about Indian art, artists, and artistry. And that is why it's Khadi, the thread of Swaraj because it gives you the feeling that the Khadi's roughness tapers down into soft cotton. Similarly, we can do to our own lives, roughen our edges to smoothen the lives of people around us. So thank you so much; it was a pleasure curating Khadi, the thread of Swaraj.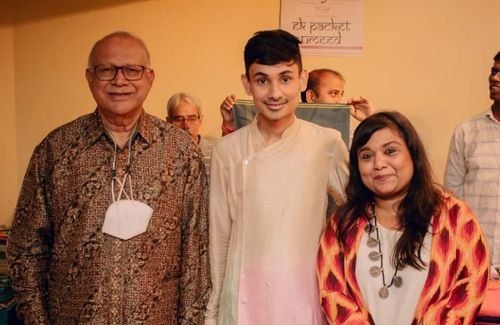 There are artisans who came from Purulia and far away areas, exhibiting the Bengal art form like _ and Maadol. And the NGOs working with human trafficking, women or sex workers, rescued sex workers, and put up their exhibits. There are students who put up youthful paintings and need a platform like this to showcase the challenge along with businesses and vendors working in organic sustainability and Indian handlooms. So they have also got this place.
More than 20 collaborations have come from the city, from governments to private organizations and NGOs who have come forward with this movement. So yes, a collective whole has come forward to support the Indian handloom industry.
What are your prospects regarding Khadi?
Yes, we want to keep growing with the thought of communicating to the rural artisans and connecting them to Indian buyers, giving them more training and skill development, and revisiting the opinions of organizations. That is very important to work in these areas. We are working for water, soil, education but this segment of the artisans need more focus to revive the industry with confidence and make their lives more comfortable.