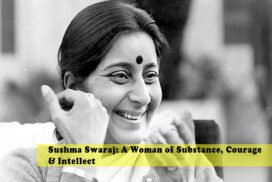 Man is mortal, says the phrase. But the work of some luminary figures always marks their presence in the history of mankind. Sushma Swaraj, the name itself speaks a thousand words, a legend and an asset to Indian politics, breathed her last on 6th August 2019 due to a cardiac arrest in Mumbai.
A native of Ambala, Haryana, Sushma was born as Sushma Sharma on Feb 14, 1952. Married to Swaraj Kaushal, Sushma has been an inspiration for mankind. A prominent face of woman representation in Indian politics, she has many honours to her credit. The Ex-Minister of External Affairs has achieved many things and foremost among them was the true representative of the republic. Below are some lesser-known facts which highlight her devotion and dedication for her country and countrymen.
The firsts to her credit –
In 1998, Sushma became the first female Chief Minister of Delhi. She has bagged many firsts into her credit.
In 1977, at the age of 25, Sushma Swaraj became the youngest cabinet Minister of India from the Janata Government, under the chief ministership of Devi Lal.
In 1979, at the age of 27, she became State President of Janata Party, Haryana State.
The first female Spokesperson of a national political party in India.
The first female leader of Opposition.
The first female spokesperson of the Bhartiya Janta Party etc.
A rare photo of Sushma Swaraj. Photo Courtesy: Google

She has been awarded as the Best Cadet of NCC for three consecutive years –
Sushma Swaraj was the best cadet of the National Cadet Corps (NCC) for three years during her studies at Ambala Cantonment's SD College. In 1970 she was awarded the best student of the college. She was the best shooter among the NCC cadets in the university. She would have loved to join the army but could not, as at that time it was not open to women. 
Her contribution to the film industry –   
Sushma Swaraj served as the Union Minister of Information and Broadcasting under the Atal Bihari Vajpayee-led government. In 1998, she gave 'industry status' to film production and changed the scenario of the film industry forever. During that era, films were financed by conventional moneylenders, and even some under-production films got money from the underworld, who lent money at exorbitant interest rates. When Swaraj legitimised the film industry, it was eligible for bank loans. Filmmakers breathed a sigh of relief as interest rates fell and dubious sources of money were eliminated.
An ambassador of Indian Culture –
Sushma Swaraj has promoted our culture and heritage to a notable extent.  During a programme titled 'Contribution of Hindi in India-China Friendship' organised by Indian Embassy, Sushma Swaraj asked Indians and Chinese to learn each other's language as it will help them overcome communication barriers, resulting in further strengthening the relationship between the two nations. All these made the Lok Sabha Speaker Om Birla to state that "Sushma Swaraj Ji was the ambassador of Indian Culture."
Her contribution to Indian culture was clearly reflected in her speeches. A notable mention is one of her extremely wonderful parliamentary speeches, where she beautifully defined diverse Indian culture. "Bharatiyata means that from Bhangra to Bharatnatyam, all dances are Indian and belong to India. Bharatiyata means that from Jammu's Rajma Chawal and Punjab's Makki Roti to South's Idli Dosa, all delicacies are Indian delicacies. Bharatiyata means that from Amarnath in the North to Rameshwaram in the South, all pilgrimages are Indian pilgrimages. You ask, what the aspects of this culture are," she said. "…Mr Speaker, the aspects of this culture is such, that a devotee of Lord Shiva takes water from Amarnath and washes the Lord's feet at Rameshwaram…"
A benevolent orator –
Swaraj was the recipient of the Outstanding Parliamentarian Award in 2004. During her tenure as the external affairs minister, she handled several strategically sensitive issues, including India's relation with Pakistan and China. With her speeches, she not only won accolades but many hearts. She won best Hindi Speaker award for three consecutive years, held by the Language Department of Haryana.
Swaraj was known for a prompt response on Twitter to address grievances of overseas Indians. A feisty woman, she never stood back from voicing her strong opinion against her opponents. From shutting down trolls when someone pronounced her death much before her actual demise, to replying to the jests to replying people on their problems, Sushma Swaraj won many hearts with her tweets, wit and touches of humour.
A true minister of external affairs –
Sushma Swaraj served as the Minister of External Affairs from 2014-2019, and abiding by the oath she took while taking up her office, Swaraj has complied with each word of her oath. She has helped the exodus people in distress by her prompt actions and social media outreach. Some notable instances are when:
Jagannathan Selvaraj, an Indian stuck in Dubai, walked 1,000 km in two years to attend labour court proceedings after he was denied the permission to go back to India to attend his demised mother's funeral. Sushma Swaraj intervened and sought a report from the Indian consulate in Dubai in 2016 and eventually, Selvaraj flew home.
In 2017, Swaraj has extended all possible help to a student who was in ICU in Georgia. When approached by the patient's sister on Twitter, Swaraj has extended the visa of the patient's mother.
In October 2017, a Pakistani woman named Hira Ahmed appealed to Sushma Swaraj to approve the pending medical visa request of her one-year-old daughter for her open heart surgery and the External Affairs Minister immediately obliged.
After the explosions in Sri Lanka on 21 April 2019, Swaraj took to twitter to share the helpline numbers and assured the possible assistance to the distressed and panic-stricken Indians in the Island nation.
Her last tweet says she wanted to see the abolition of Article 370 in her lifetime, and she witnessed that. Her may depart but her works and her generosity will always be remembered by the mass. And the entire woman community will salute the lady of courage and intellect.
Rest in Peace Cinnamma!