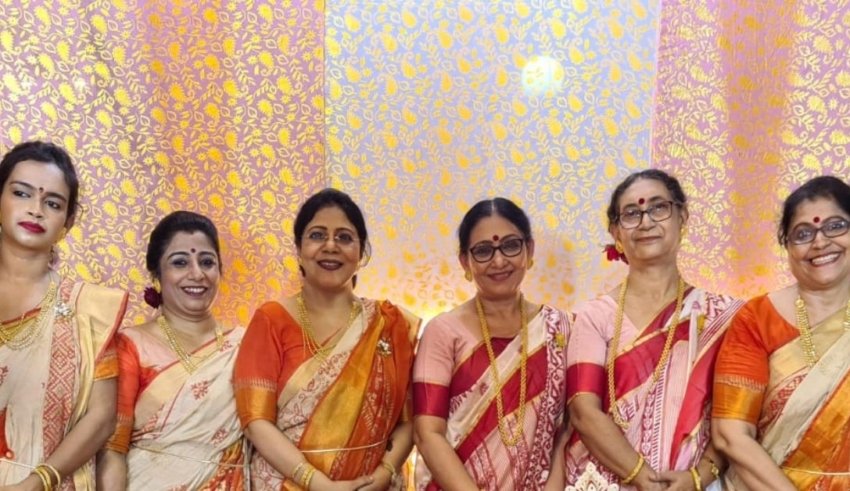 Woman Priest, the idea itself has been scintillating the society for a long. However, there have been protests from the male priests and women who stood against the idea of saying it as blasphemy.
Priesthood for women across the globe is not an ordinary case. Though exceptions were always available to show the path to the generation ahead. In 2006 Katharine Jefferts Schori was elected as the first female Presiding Bishop in the history of the U.S. Episcopal Church.
Vedas & Yajnopaveet:
According to American Institute of Indian Studies, "Initially meant for boys & girls, later it was limited to boys. The ceremony marks the child's second birth in the world of knowledge. Thus onwards, children, known as 'dwij,' meaning twice-born. In the Vedic era, girls too underwent Yajnopaveet sanskar and received the knowledge of Vedas from great seers and saints in the Brahmacharya Ashram. Later Manu-Smriti limited it only to boys. The Vedas mentioned the inclusion of girls, whereas modern sages and some Brahmin scholars successfully eliminated gender for unknown reasons.
Female goddesses like Mahisasurmardini or Durga Mata wears sacred thread to depict her strength and knowledge at par with male gods.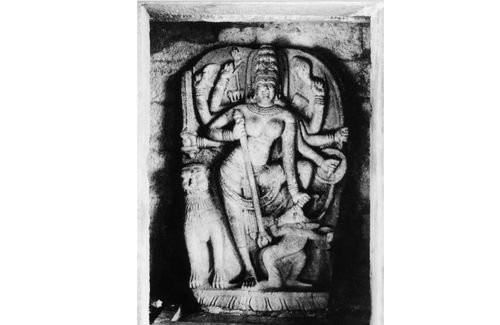 Shubhamastu, an organisation of women priests:
Shubhamastu is a priesthood organization where lady priests officiate weddings, shraddha ceremonies, housewarming ceremonies, child's rice-eating ceremonies, etc. Last year, this organization performed Durga Puja in Kolkata, a revolution. The priesthood method is based on Sanskrit and Vedic Literature and is uniformly curated with suitable Bengali songs as per the occasion.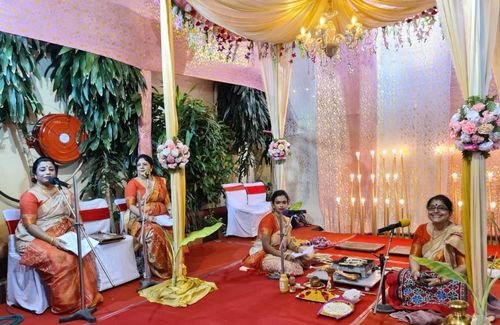 The technique has a Pan-Indian approach and creates an empowering change in male-centric traditional weddings. It involves an explanation and significance of the ceremony in vernacular languages, including English. Shubhamastu's method of priesthood is widely popular for over a decade. The activities of Shubhamastu has inspired the Bengali film Brahmajanen Gopon Kothati. Dr. Reeta Bhattacharya, an Indologist, and renowned Social Worker, started her priesthood within her family in 1999.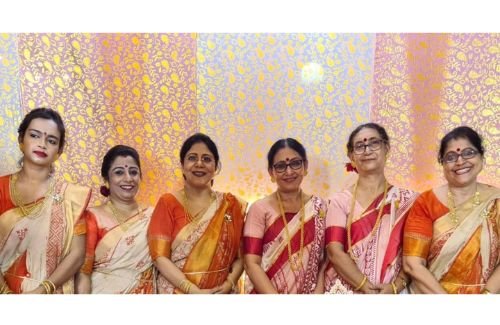 Last year, at the time of corona, when everything was on red alert, she showed her courage to go to Noida and fulfilled her promise of the priesthood to the bridegroom and her family. This year, from the 8th of July, she started her new journey with Shubhamastu and performed her duty as a priest again. From now onwards, she will work with Shubhamastu as a regular priest.