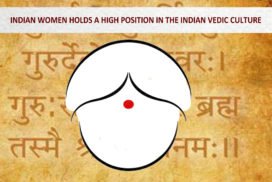 One of the best way to understand the spirit of civilization and to appreciate its excellence and to realize its limitations is to study the history of the position and status of women in it.
A debate is going on regarding the status of women in primitive communities. The ideas that the primitive people were barbaric, had led some to conclude that women had been subordinate to men. In primitive life, the muscle was an indispensable element in the success and the men were stronger in it than women.
During the Vedic period, women held a position of honour because of her participation was found to be necessary for the production process. A woman was considered as an equal partner with man in the responsibilities and duties at home. Sita of the epic Ramayana offered ritual prayers with mantras. She was not an obstacle in the path of religion. In fact, her presence and cooperation were absolutely necessary for religious rites and ceremonies.
Unfortunately, the deterioration in the status and position of a woman began from 300  B.C  onwards. In Mahabharata, the epic shows society facing a lack of confidence in the nature of a woman. In the Rigvedic period, women took part in the intellectual life of society. In the Upanishadic period, there are references to women of high intellectual attainments. Gargi is one of the examples of such claims. Matreyi, the wife of Yajnavalkaya holding with her husband philosophical discussion on the relationship of the universal soul. These demonstrate the height of intellectual attainment to which as women could rise.
The Puranas also speak of lady teachers.  However, after 300 BC the situation changed and the right to study came to be denied for women. Higher education was not permissible for girls, they were given training in fine arts like music, dancing and painting from early times. In fact, they were recognised as feminine accomplishments.
At present, a number of women organizations have created a sense of consciousness for gender equality. But rape, dowry deaths, humiliation, domestic violence and other atrocities against women still exist in our society today. Nevertheless, women have contributed to the progress of humanity in every age and are the agents of change yet a lot must be done to uplift their own status. Her status is a significant reflection of social justice in society. In modern Indian society, there are many constitutional guarantees and legislature measures to protect them.  However, the literacy rate of women is not so high. As a result work participation for women is low.
Today women are not treated with respect as in ancient Indian society. Lots of crimes against women happens every day. Constitutional provisions are not sufficient to get a respectable position in society. Some changes in the mindset of women, as well as men, are the urgent call to change the situation. Now we are more equipped with technology and commercialization. Under such a scenario, a volatile change is expected in the status and position of women globally.