Autism, a neurodevelopmental disorder, affects approximately 1 in 54 children globally.
Autism Spectrum Disorder is characterized by challenges in social interaction, communication, and repetitive behaviors, highlighting the importance of understanding and supporting individuals with autism. As the founder of the NGO Amra Sabai Raja, the cultural society, Madhurima Sengupta has dedicated herself to uplifting marginalized communities and providing support to those in needs. Here is a snippet of a quick conversation with her.
Shaina Ahmed: Hello Madhurima, it's a pleasure to speak with you. Could you tell us a little bit about your background and what inspired you to enter the field of Autism Spectrum Disorder?
Madhurima Sengupta: First of all, Thanks you for having me. My background as a psychologist and special educator has been instrumental in shaping my journey into the area of Autism Spectrum Disorder. Through my work, I witnessed the challenges faced by individuals with autism and their families. Their resilience and unique perspectives inspired me to dedicate myself to making a positive impact in their lives.
Shaina Ahmed: That's wonderful to hear. I understand that you were honored by Woman Times for your outstanding work in fostering tribal community development. Could you share more about that experience and what motivated you to address the severe food crisis and difficult living circumstances?
Madhurima Sengupta: Indeed, receiving recognition from Woman Times was a humbling experience. During my work, I came across the dire conditions faced by tribal communities, particularly the challenges of severe food scarcity and harsh living circumstances. Witnessing their struggles firsthand moved me deeply and sparked a strong sense of calling to make a difference in their lives. I believed that by providing free clothes, food, and education in College Street, we could offer them a glimmer of hope and contribute to their overall well-being.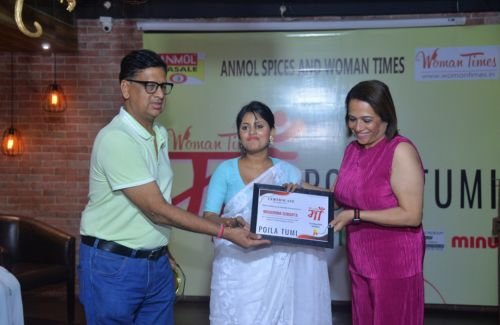 Shaina Ahmed: It's impressive to hear about your commitment to serving the community. How did your organization respond to the challenges posed by the COVID-19 pandemic, and what impact did it have on your work?
Madhurima Sengupta: The COVID-19 pandemic presented immense challenges for everyone, especially vulnerable communities. In response, my team and I intensified our efforts to support those in need. In just 51 days, we managed to provide food to approximately 1 lakh people, along with arranging essential supplies such as oxygen cylinders and medicines for affected households.
Shaina Ahmed: That's truly remarkable work. Could you shed some light on the critical issues you discovered during the survey of the tribal community, such as high rates of infant mortality, undernourishment, and enlistment in Maoist and Naxal organizations?
Madhurima Sengupta: The survey we conducted revealed alarming data on the tribal community's conditions. We found high rates of infant mortality, undernourishment, and rickets among tribal children, leading to drastically shortened life expectancies of only 45-46 years. Additionally, we identified a concerning link between tribal communities and the enlistment of people into Maoist and Naxal organizations. This discovery emphasized the urgency of our work and the need to provide alternatives and prevent future recruitment.
"We also conducted a comprehensive 45-day survey of 32 villages in West Bengal, which revealed the dire conditions faced by the tribal community. These efforts allowed us to expand the reach of our work and provide vital support during these trying times."

– Madhurima Sengupta
Shaina Ahmed: Your dedication and the impact you've made are truly inspiring. Can you tell us more about your team and how they contribute to the mission of your organization?
Madhurima Sengupta: I'm grateful to lead a committed group of 36 individuals, including IIT graduates, engineers, physicians, and other medical experts. Each member brings their unique skills and expertise to the table. Despite the lack of government funding or subsidies, our team maintains their dedication by giving a monthly donation fee to meet the nutritional needs of children. Their unwavering commitment serves as an example of the power of teamwork and compassion in serving our community.
Also Read: Samapti Maity: a name who has made attempts to promote women empowerment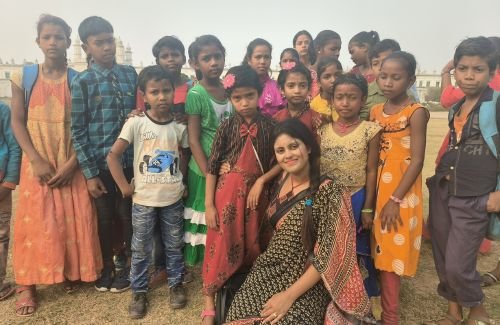 Shaina Ahmed: Your expertise as a clinical psychologist is invaluable. Could you share some insights on the significance of treating each person as an individual and the challenges surrounding mental health awareness in Indian culture?
Madhurima Sengupta: Absolutely. It's crucial to approach each person as an individual, recognizing the uniqueness of their circumstances and experiences. In Indian culture, there's still a prevalent taboo around mental health, with individuals often seeking counseling only after facing rejection from their loved ones. This highlights the need for more professionals in the mental health field to address the high suicide rates and provide support to those silently suffering. By fostering empathy and understanding, we can break down barriers and ensure people receive the care they desperately need.