Woman Times has organized Pujor Shera Sabeki Mukh in association with Hotel O2 Oxygen and Anmol Spices Private Ltd. The main attraction of the show was the internationally renowned fashion designer Bibi Russell, who judged the show. It is her first ever beauty contest judgement based on Durga Puja. The contestants celebrated the heritage status bestowed upon Kolkata for its Durga Puja by UNESCO and significantly it was done before Bibi Russell, who is an International UNESCO Peace Artist.
Bibi Russell says,
"I am really happy to see the women performing and mesmerised with their talent. It has been their first time on stage but they were so confident that I could not understand this was their first time. Durga Puja is Bengal's biggest festival and I am happy that Kolkata received this status."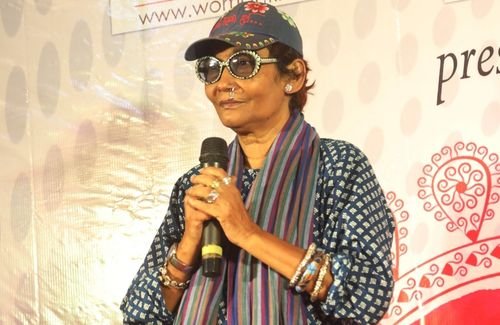 There were two rounds and the accumulative points. The winners of Pujor Shera Sabeki Mukh'22 are – Moumita Guha (Winner, MRS), Sudarshana Bag (1st Runner-up, MRS), Abhilasha Khare (2nd Runner-up, MRS), Rajashree Mukherjee (Winner, MISS), Dr Sharmistha Das (1st Runner-up, MISS) and Shilpa Singh (2nd Runner-up, MISS)
Women from all walks of life walked the ramp, with ensembles and props that represent Kolkata's UNESCO Intangible heritage status, i.e., Durga Puja.
For the unversed, this Durga Puja in 2022, will have a special significance. The puja celebration has been inscribed as an Intangible Cultural Heritage of Humanity by UNESCO. Moreover, it is the 14th Indian event on the list, which bears such significance. The formal functions will happen this year, although Kolkata had received the status last year itself. Woman Times takes the opportunity to celebrate the event under the aegis of renowned guests from society.
Durga Puja is one of the biggest celebrations not only in Kolkata, but the entire country, India. It is a public performance of religion and art. Moreover, it is a wide platform for artists and designers, to say the least. You will find large-scale installations and pavilions created everywhere, across the city. The same is a celebration that is on for 10-days. The divides of religion, caste, and creed dissolves during this event. UNESCO has conferred this heritage tag 'Intangible Cultural Heritage of Humanity' upon Durga Puja celebrations, that includes all kinds of traditions inherited from the ancestors and passed on from one generation to another, like traditions, performing arts, rituals, festive events, knowledge and practices and skills to produce traditional crafts. It is not only limited to archaeological sites and monuments.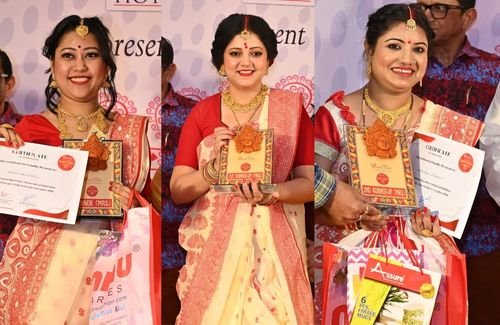 Moreover, Pujor Shera Sabeki Mukh was judged by the eminent personalities like: Bibi Russell – International Fashion Designer, Rakesh Prasad – AVP-indigo Airlines, Anjali Ganguly – owner of Anjali's Care, Saira Shah Halim – TedX Speaker, Columnist, Social Worker, Arpita Bose – Mrs India pageant winner, Anushree Mitra – owner of Anushree's diet and wellness clinic and Dr Santosh Ingle – owner of Drona. The state coordinators were Dr Saswati Biswas (Winner of Pujor Shera Sabeki Mukh'21), Mom Bhowmick (2nd Runner-up of Pujor Shera Sabeki Mukh'21) and Pampa Gupta who were the backbone of the event.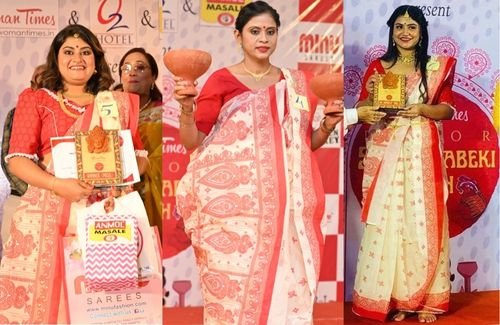 CEO of Woman Times, Moonmoon Chakraborty Chatterjee says, "It is the team effort that has been so beautifully presented on stage. Rehearsals and grooming were done by Patralika Das. And the last round was fully dedicated to UNESCO's Intangible Heritage Status that Kolkata's Durga Puja has received. The show director, Poulami Chakraborty, has done a commendable job by synchronizing the whole event."
The gifts were presented by Anjali's Care, Assure Appliances, and Minu Sarees. Special support was given by Drona and Anushree's Diet and wellness clinic. The event was managed by Aashirwaad Events.