A happy announcement for the Durga Puja!
The Durga Puja in Kolkata has been recognized by UNESCO as a culturally significant event, giving honour to India. Prime Minister Narendra Modi and Chief Minister of West Bengal Smt. Mamata Banerjee has praised the decision. The Department of State for Information and Cultural Affairs, Kolkata, has released a statement of congratulations to the state's citizens. Durga Puja, Kolkata, was added to the UNESCO Representative List of Intangible Cultural Heritage of Humanity at the 16th Committee's meeting on December 15 in Paris.
West Bengal's Mamata Banerjee led a grand rally to thank UNESCO for recognizing Durga Puja as a cultural and historical treasure. Eric Falt, UNESCO ambassador to India, Bhutan, the Maldives, and Sri Lanka, said, "I had lunch with the Chief Minister of West Bengal three months ago, who said she wanted to organize a party to thank UNESCO. But honestly, I wasn't expecting something so grand.
"Congratulations to the entire state. I've never seen such passion around an inscription as Durga Puja", he added.
Durga Puja in Kolkata is now included in UNESCO's "Representative List of the Intangible Cultural Heritage of Humanity" in December 2021, making it West Bengal's most prominent festival to get the honour. On September 1, 2022, West Bengal's administration, led by Chief Minister Mamata Banerjee, organized a rally to thank UNESCO. Two UNESCO representatives participated in the rally, singing and dancing along the five-kilometre stretch from Joransanko Thakurbari to Red Road. It marks the beginning of the month-long puja celebrations. The demonstration brought 1,200 people from Kolkata, Howrah, and Bidhannagar.
As Banerjee led the march, thousands of people lined both sides of the road; participants chanted, danced, and beat drums. Thousands of students, diplomats, merchants, puja committee members, and artists followed. On September 24, a UNESCO delegation will return for puja preparations. The crew will visit more puja pandals.
Smt. Tapati Guha Thakurta leads the historical work that paves way to Durga Puja's inclusion on UNESCO's Representative List of Intangible Cultural Heritage and was led by .
"I can't claim sole authorship for the work. It is a collaborative endeavour by our team and all Puja stakeholders", said Guha Thakurta after the Red Road event.
CM Smt. Mamata Banerjee, Chief Secretary H K Dwivedi, Firhad Hakim, Saurav Ganguly, and UNESCO delegates shared the space with Guha Thakurta on Red Road. CM Banerjee began her speech by expressing her gratitude to Guha Thakurta.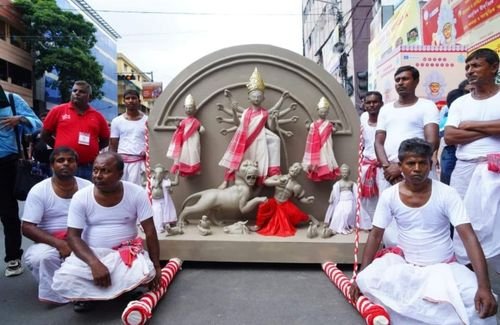 UNESCO recognized Guha Thakurta's research on December 15, 2021, 20 years after she began it. As she interviewed artisans and event coordinators, what started as a side interest shared with coworkers quickly became her focus. Puja is more than a religious event. Therefore, scientists have written a paper about it. They studied Puja's logistics, art, and community involvement. UNESCO rejected the 2012 application. After 12 years, the group published a book in 2015. In August, the Culture Ministry requested Guha Thakurta's dossier. Completed in 2019, amended in 2020, and presented to Unesco in 2021.
Sandipan Mitra, a PhD candidate at Presidency University, worked on drafting the UNESCO dossier with Cambridge PhD candidate Debi Chakraborty. "I believe our goal is fulfilled at the Red Road event. We released the dossier in hopes that Puja would attract global visitors. It will strengthen our state's secular image," said Mitra, hoping the honour would boost Bengal's economy.