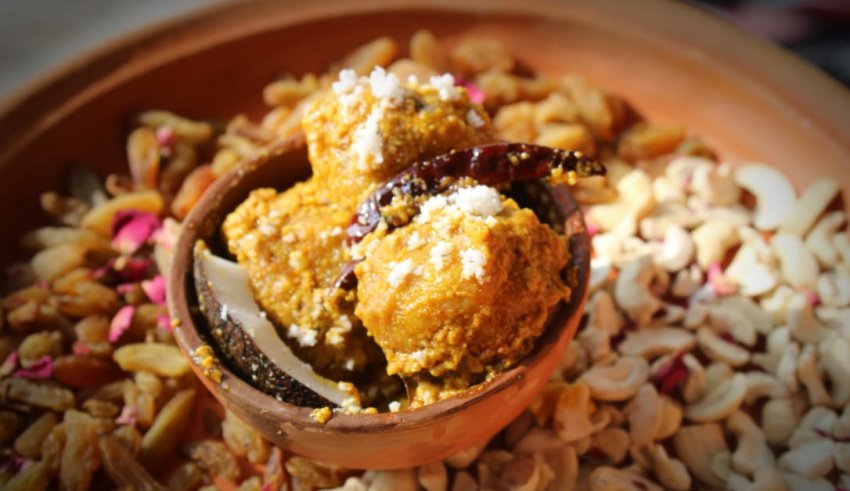 Recipe: Chanar echorer achari kofta
Ingredients:
Green Jackfruit – 200 GM's
Mustard oil – 1 cup
Ghee – 4 tbsp
Kashmiri chili powder – 1 tsp
Salt – 3 tsp
Turmeric powder – 2 tsp
Sugar – 1 1/2 tbsp
Cumin powder (Jeera) – 1/2 tsp
Coriander (Dhania) powder – 1/2 tsp
Chilli paste – 1 tsp
Cottage cheese – 3 tbsp
Cornstarch – 3 tbsp
Ginger paste – 1 tsp
Fried spices – 2 tsp
Coconut crumb – 3 tbsp
Tomato – 2 medium size
Cashew (kaju) & Almond paste – 3 tbsp
Milk – 1 cup
Coconut milk – 1 cup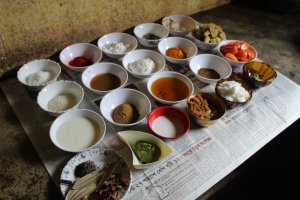 For Seasoning:
Cumin seeds (Jeera whole) – 1/4 tsp
Bay leaf – 1
Dry chilli – 1
Cloves – 3-4 pcs
Cinnamon – 1 stick
Cardamom – 2-3 pcs
Process:
Lightly boil the green Jackfruit with 1 tsp of salt and 1/2 tsp turmeric powder. Rinse the water well.
After this take 1/2 tsp salt and 1/2 tsp turmeric, 3 tbsp cottage cheese, 1/2 TSP sugar, 11/2 tbsp coconut crumb, fried masala (pickle flavoured), cashew nuts and raisins that are half dusted along with 1 tbsp cornstarch and mix all of these well.
Then make small balls of this mixture. Dip the balls into the cornstarch.
Now take the tomato and 3 tbsp cheese and make a fine paste.
Take a pan and add 1/2 mustard oil, and 11/2 ghee after the oil gets hot enough drop the balls to fry on a high flame. After the balls turn golden brown take them out from the pan.
Take a pan and add ¼ tsp cumin,1 bay leaf,1 dry chili,1 cinnamon stick,3-4 cloves,2 elaichi in ½ cup mustard oil and 1½ tbsp ghee. Then again add 1 tsp ginger paste,1 tsp cumin, 1 tsp coriander powder and 1 tsp Kashmiri chili powder, 1 tsp turmeric powder,salt, sugar, and green chili paste. Saute it very well. After that take 1½ cup of milk and 1 cup of coconut milk in a kadai and boil on medium flame for 4-5 minutes. Now add 1 tbsp mustard paste to it and keep on medium flame for 5 mins. Then take the balls and put in the gravy. Heat the balls on low flame for 2 mins.
Take this out and add the fried masala in achari flavour.