What is Woman Empowerment?
"I was once afraid of people saying 'Who does she think she is?' Now I have the courage to stand and say, 'This is who I am.'" — Oprah Winfrey
If getting married and having kids is an end to woman empowerment, then the story of Kavita More will definitely change your perspective. From being a sincere homemaker to becoming a nutritionist and then the National Woman Empowerment Award, she dedicatedly enjoyed every shade of her life. If we minutely observe a homemaker's journey and a dietician's journey are almost the same, concentrating on food and nutrition. A mother is constantly on research work to provide the best and nutritional food to her child. Similarly, a dietician is continuously after her patient to promote the fitness goals and make him or her healthy.
Childhood:
Born and brought up in Assam Kavita always had the craze for being fit and fine. She has always been a health-conscious and disciplined childhood. Being active in every sport she recalls her childhood days,
"I was very disciplined back then from my childhood, and till date, I continue the same. My thoughts were majorly preoccupied with concerns over my weight and healthy foods. Unaware of the diet system then unconsciously I followed a healthy routine that voluntarily excluded junk or unhealthy foods."
Career, Woman Empowerment & Entrepreneurship:
Career nowadays is a trending word for any student but back then in the 80s or 90s hardly there was a system or Google to find out about careers and more about offbeat courses. Kavita was a good homemaker, amazing mother and an obedient wife. But who said that these characteristics hinder your career? More realised after her second child was born that she must do something that defines her. And as we all know 'Where there is a WILL, there is always a WAY', Kavita opted for the nutritionist course from VLCC and did an internship at Apollo hospital. And she is presently a certified diet coach.
"I have my own brand now Kavita More and I am happy that I am transforming lives enlightening them to be healthy. Initially starting a brand takes a lot, but my associations have been great. People love coming to me and most importantly I do not restrict them from eating but guide them to eat healthy through my brand. i must mention Dr. Rajeev Agarwal, an IVF specialist who has helped me a lot to carry forward my career. I do my consulation from CARE IVF and RB DIGNOSTICS", says the Entrepreneur lady.
                              Kavita's brand and her daily task of enlightening people with nutritional facts
The biggest challenge so far:
Challenges are a part of life. When Helen Keller says in The Open Door, "Life is either a daring adventure or nothing at all", this means you are not ought to say 'NO' to your challenges. During her internship days at Apollo, she had faced many challenges; as she had never experienced the outside world with an open eye. Recalling her old struggle, smiling she says,
"I remember the day when the head of the department assigned me to the ICU and I really disliked the surrounding with the ongoing battle of life and death, there was a kid of my son's age and I felt very bad about him; I got fainted that day. The HOD had to send me back home as I was unfit for duty that day. After getting back to the hospital the next day, again I was assigned the same ward for my whole day duty. I realised focusing on my work was more important than those things which were bothering me. Even though I heard two death news on the very day, I continued my work will full dedication."
"Gradually, I discovered what life should be, we need to focus on what we're appearing for. Our dedication and hard work towards our jobs is the thing by which we can win hearts. I was largely criticised by people for my behaviour and sensitivity towards other's pain but my hard work, subsequent cases changed their perception. I remember I used to cry after getting back home for the things I used to face during my duty hour. With sleepless nights, and getting to my job on the time, it was my positive behaviour to the circumstances that pulled me out of the struggle"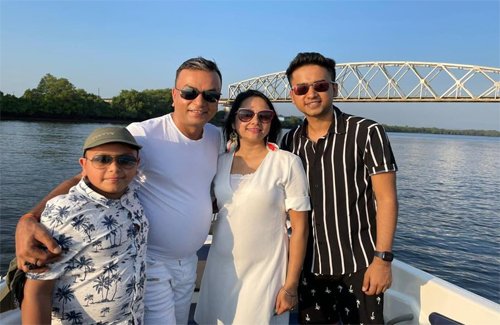 An empowered woman and her other hobbies:
An avid reader she loves reading books that enhance her knowledge and allows her to apply in her field. Apart from this, she loves to spend time with her kids. According to her, "Being a mother I never neglected my kids and I do not like to do so. They are my responsibility so I ensure that I spent some quality time by checking their academic works, playing with them and enjoying my motherhood to the fullest."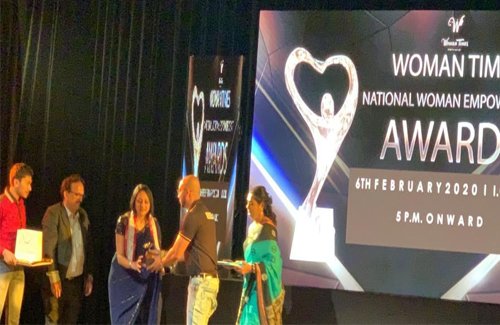 Woman Times National Woman Empowerment Award:
Relishing the moment of receiving the award on stage, she speaks, "It so happened that a patient of mine came across the nomination call for 'Woman Times National Woman Empowerment Awards 2020' and he filled up the form. It was only when I was selected that I came to know about the nomination being submitted. I was so delighted and later in the year 2021, I received the International Inspirational Woman Award by International Woman's World Record.
Kavita's Message to the Women:
"We as a woman have the ability to give birth to a child; to nourish them. I think being a mother is the biggest blessing one can have, and it's our duty to follow a healthy lifestyle to have healthier kids. Start including plant-based foods in your routine. Take care of yourself, do a lot of exercises as this will not only benefit you but your upcoming generation. Because if a mother is blessed with good health the child will have the same.  Moreover, you are the only one who can decide where you want to be in life", says Kavita.