Inspiration runs the World!
In a world where challenges often seem insurmountable, hope stands as a beacon of light, guiding us through the darkest of times. Embracing this essence of hope, Sonali's Cubo and Vayjayanti Phugalia, in association with WICCI Eastern Region Council, proudly present an extraordinary event, "HOPE: Umeed Pe Toh Duniya Kayam Hai." This unique gathering is a celebration of hope, resilience, and the indomitable spirit of individuals who have risen above adversities to inspire others and create a positive impact.
The event, which is scheduled to take place on 5th August 2023 at Kolkata Creative Center, promises an unforgettable experience for all attendees. The renowned artist, Subhaprassanna, will inaugurate it and mesmerize the audience by painting live on canvas, capturing the essence of hope with every stroke. Accompanying him on the piano will be the immensely talented Rajlakshmi Syam, adding an enchanting musical dimension to the event.
One of the highlights of the occasion will be the presence of a real-life hero, Mrs. Sagarika Chakraborty, famously known for her remarkable journey depicted in "Mrs. Chatterjee vs. Norway." Mrs. Chakraborty's unwavering determination and fight for justice have inspired millions, and she will grace the stage as the celebrity speaker, sharing her story of resilience and hope.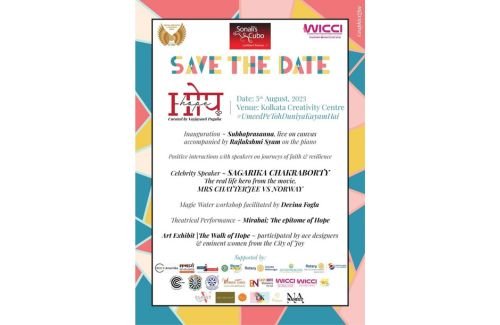 Several esteemed special guests will grace the event, each of whom has left an indelible mark in their respective fields. Among them are:
Jaya Seal Ghosh, an accomplished actor and danceuse, Alakananda Roy, a celebrated dancer and social reformist, Apala Dutta, the Principal of Birla Bharati, Suman Sood, Director of BD Memorial Jr. School, Indu Gandhi, Director of Poisecon, Kumud Mitra, President of WICCI Fashion Council, Anupama Dalmia, award-winning writer and blogger, Anuradha Kapoor, a prolific writer, and more such personalities will grace the event.
The event will be an inspiration to many to overcome their struggles and set an example to the womanhood and society.