Chess grandmaster not necessarily be a man always here we have a female chess grandmaster to cheer her success through this article.
Chess is becoming quite popular in the last decade in India. Earlier, it was not something a parent would push the child into, but there has been a sea of change lately. It is one of the most mentally-invigorating games that you can play today. Chess is for you if you are strong in mathematical and logical reasoning. Well! Speaking about the female chess player, Tania Sachdev, the chess grandmaster, has made quite a name for herself in India and globally. She holds several titles. Let us find out more about the lady. 
India's Female Chess Grandmaster:
For the unversed, Tania Sachdev holds several titles. She has the titles of International Master and Woman Chess Grandmaster. You will be amazed that her mother pushed her into the game when Tania was just six years old. She did achieve another impressive feat after that. Tania Sachdev won her first international trophy two years later. Such was her prowess in the game that Tania also received some of the highest awards in sports in India. It is the Arjun Award that we are talking about here. In the FDE World Chess rankings, she ranked among the top 50 players in 2014. 
Her winning streak continues from a young age. Tania won many awards as a child and after that. 
In 1998, she became an under-12 Indian champion. 

In 2000, she became an under-14 Asian champion. 

In 2002, she became an under-20 Asian champion. 

Tania also won the Bronze in 1998 in an under-12 tournament. 

Tania Sachdev has been an ardent Viswanathan fan and became the eighth Indian to have received the Woman Grandmaster award in 2005. 

She won the Indian 

Chess

 Championship for women consecutively in 2006 and 2007.

She also won the Women's Asian 

Chess

 Championship in the year 2007.

She became an International Master in 

Chess

 in 2008.

In 2012, she also won a single bronze medal at the Women's 

Chess

 Olympiad in Istanbul.
Her list of awards is endless. Till now, she has been conquering new heights with her skills.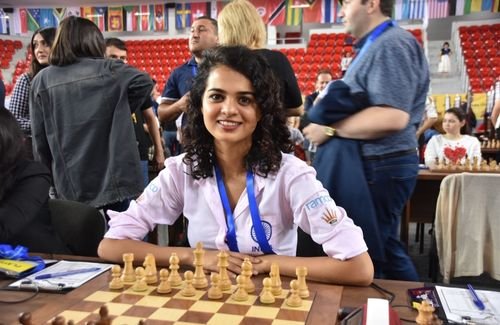 Tania Sachdev playing Chess
Early Childhood and Life:
Tania Sachdev was born in 1986 in Delhi. Her father is a businessman interested in football, and her mother was a badminton enthusiast and state-level player in her college days. She has two siblings, a brother who plays professional golf and a sister. She did her schooling at Modern School in Vasant Vihar, and Sri Venkateshwara College, in New Delhi. She is married to Virat Kataria, who is an architect by profession. 
Chess In India:
Now, moving on to the scope of female chess for players in India, females lag for the most obvious reasons. Gender equality is a huge talking point in sports. However, in the 132-years old history of chess, very few female players have won the World Championships. In India, gender inequality seems more prominent than elsewhere. India ranks fifth in the FIDE ranking. The reasons behind the slow growth of chess, a sport in India, are complicated. Now, it is not the sole responsibility of society that makes the status so bad. 
In India, there is a lack of good quality chess tournaments, which seems to be one of the first reasons for its status as a game. Then funding is also another critical factor. Several women also report that they were stopped from pursuing tournaments and travel after marriage. Chess is a game that demands that a player spend a lot of time away from home. If the husband and in-laws are supportive, this is still possible to a considerable extent, but not otherwise. In India, the male-female ratio of chess players is 16:1, according to recent findings. Many players in India, especially females, cannot afford to pay the fees that amount to lacs to play abroad. So, you can understand that gender bias is due to financial, societal, and cultural pressure. People also stereotype the players a lot. 
Things Are Changing Fast:
The world chess has started to change for the better. In 2020, if you happen to see the figures, around 15% of players are female. Many Chess Clubs are taking action today to help the game progress in more ways than one. The mandates include at least one female player in the leagues that are taking place. Attitudes regarding chess for females are also starting to change. It would help if you also challenged the organizer's mental makeup, wherein they tend to promote male players more than female players. Female players are often made to pay the entire expense. However, the tables look set to turn, with people becoming more open-minded. 
Tania has set an example being a chess grandmaster which is a benchmark for many. You can find some more financially stable female chess players sponsoring their matches. However, the sponsor's mindset also needs to change, which will be a step forward for a better deal for female chess players.