Sometimes she screams, shrinks into boxes, heals body and mind or creates a plethora of dance emotions packed into the contemporary form. Meet Ronita Mookerji, a professional movement artist and carrier of contemporary dance form.
PC: Was learning dance a deliberate attempt or an unplanned process?
RM: (laughingly) The credit goes to my mother for this. Back in childhood, I was a very lean toddler, and my mother thought that dance and yoga classes might make me strong and add grace to my body. So, my brother and I were put into the yoga classes right before I turned 5. It was at 5 years of my age when my mother heard about a dance school run by Mohana Iyer and thought of putting me into it as an unaccomplished desire of hers towards dance.
PC: Being born to corporate parents, how was creativity injected into you?
RM: That is a very good question; even I question this to myself. I wonder, being a science background student, doing B.Sc in microbiology from Xavier's dance was the only thing constant in my life. I was an introvert but also keen on various creative forms like sketching, dancing, needle works, etc. Moving out with friends was not on my cards.
Moreover, as we were raised by our Nanny when my parents went to their jobs, she used to tell us stories. Again, my grandfather was very good at sketching; his drawings of Darwin and other historic figures lured me towards the art form. I think my interest in the art form is purely an amalgamation of various insignificant yet strong genes from my family. But yes, even I had to fight to be into this profession wholeheartedly as this is not a very easy job with a routine. I want to be a storyteller through my art forms.
PC: Creative form is a way to connect to divinity. Do you feel the same? Or how do you look at it?
RM: Absolutely. Being emerged in dance, I can connect to divinity in getting peace in the profession. I also practice Reiki and kinds of stuff, which relaxes me and give me clarity of thought. See, I also teach dance to kids, and it has been 12 years that I have been doing it, and I thoroughly enjoy it because it is again a way to connect to people and know so many stories. The students who lovingly call me 'Ronn' say that they can strip off their problems, feelings, and everything before me, and they will never hesitate. The confidence comes from a strong connection; there is a certain kind of healing when they do the sessions.
Dance in itself is a healing process where there is an involvement of 5 elements of life. Stage shows are not always my focus but dancing to satiate the soul is the core.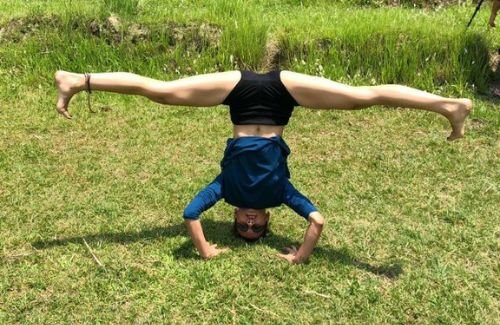 PC: How do you see the pandemic affecting the dance practices or students learning the art?
RM: Pandemic has been a threatening and frightening phase that is still on. However, the interest in learning dance grew manifold through online classes you talk about the effect. People started discovering better ways to connect to the form. Moreover, my kind of dance is more contemporary and more therapeutic. With growing awareness in the past few years, there is a preponderance of maintaining good health. I had to fight to convince people about contemporary dance. Wearing skimpy clothes, with variations far and wide in performances and completing a new idea in India were not easily accepted. I have traveled overseas for performances, but this form of dance does not get a response in India.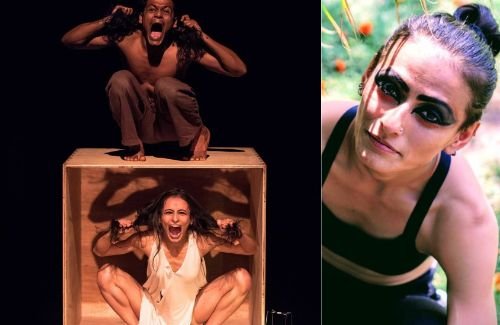 PC: You have been very dynamic in presenting this form of dance, and I do not know if I will be right to term you as one of the ambassadors to preach and promote contemporary dance. I have read that you are the only Indian dancer to perform at the Dance Box residency?
RM: It started with my training at 'Attakkalari Centre for Movement Arts', one of the leading South Asian dance academies in India, where I received training for both contemporary dance incorporating Bharatnatyam and Kalaripayattu. The latter is a Kerala-based form of Marshal Art which is now popularized worldwide through training that we provide. Through this, I had the opportunity to visit Japan, where I stayed in Maizuru in, Japan, and there I took Bharatnatyam and Contemporary classes and choreographed a play with a Japanese dancer.
In 2015-16 I went to Germany for half a year as a guest artist for a piece of production with 15 International dancers. The performance was a hit, and again we were called, and I went and stayed for 2 months. I also have done a show performance where I shrank myself into a box and performed for hours.
PC: Ground Reality is that people are afraid of taking up dance as a full-time profession; on top of that, the contemporary form will be the farthest dreamt profession.
RM: In the past few years, a lot has changed over the acceptance of hobbies or creative installations. Some schools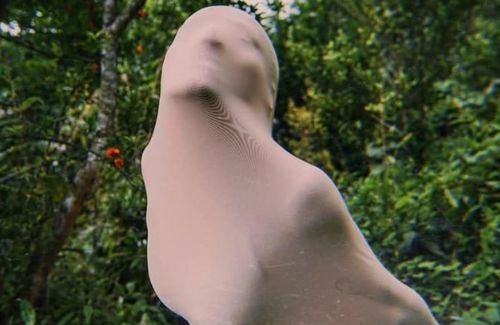 and colleges have taught yoga, Marshall Art, acrobatics, and such fitness-oriented sessions in their curriculum.
People are slowly opening up to these forms of performing arts. Even the demand is coming from the parents and students. Yes, commercial inclusion, for many, is a threat to livelihood. People are afraid to take it with not so easy definition of earning through performing arts. I have been lucky (touch wood) it has been a success for me. And for this success my mother has been a strength throughout my life who had held my hand strong and encouraged me to be a professional movement artist. There is always a thin line that works for one. There will be months working at a stretch and other times sitting idle. Consistency is vital, and it needs patience. However, yes, this gives you immense contentment.
Starting young is important as dance has a shelf life, unlike other creative forms. As dancers age, the physical limitations grow with age, pushing boundaries to maybe 60 years but not more. So, you have that period in your hand to start and prove yourself. One has to be disciplined mentally.
PC: If youngsters want to contact you, how do they do it?
RM: I am always on social media. I teach students, so I also love to answer the queries related to dance and body. So, anyone may contact me through Instagram, email, or message.
PC: Tough questions and after a serious conversations let us play a RAPID FIRE round. Are you ready?
RM: Yes of course I am always ready.
Traditional or contemporary dance? Both. For me, a larger part of my existence comprises the Bharatnatyam form of dance. So, selecting one is pretty difficult.
Stage or tutorial? Of course a stage performance.
Contemporary in India or western countries? Well for me it is to bring in knowledge from contemporary dance forms in western countries to India and spread the art.
When dedication starts moving from inch to inch it is then that artists are born. Ronita's dedication and passion with the contemporary dance form will surely be a boon to the culture and creativity of the nation.
To connect for interviews please drop an email at [email protected]