Mishti is not just a sweet, but an art form that requires precision and skill to master. From the hand-kneading of the dough to the slow cooking of syrup, every step in the process of making Mishti is critical in creating the perfect dessert. Each Mishti is a reflection of the love, care and tradition that goes into its creation. Jugal's Literature Festival is taking the art to the next level.
Jugal's, a renowned name in the world of Mishti (sweets), is organizing a landmark event to celebrate 100 years of Mishti making. The Jugal's Literature Festival, the first-ever global literature festival on Mishti, will be held on February 11th and 12th, 2023, at the iconic Town Hall in Kolkata. This two-day celebration will bring together a diverse group of experts, including food historians, writers, culinary specialists, dairy experts, economists, and industrialists, to honor the legacy of Bengal through the art of Mishti.
The festival will comprise engaging panel discussions, open forums, art and photo exhibitions, and interactive workshops centered around Mishti. These sessions will delve into the history, legacy, culinary impact, economics, socio-cultural influence, and future of the dairy-dependent Mishti industry.
Famous personalities include Asma Khan, Dr. Colleen Taylor Sen, JayantaGhosal, Bibi Russell, Sanjoo Malhotra, KurushDalal, Dr.AverySeengupta, Sandip Roy, Shaon Sen, and many more will be a part of the panel discussions.
Mishti is a type of dessert unique to the region of Bengal in South Asia and is adored by over 300 million Bengalis worldwide. Originating from the Sanskrit word "Mitha," meaning sweet, Mishti has a long history that dates back centuries and is an integral part of the Bengali culture and cuisine. Made from the finest ingredients, Mishti is known for its delectable taste, creamy texture, and rich flavors that tantalize taste buds. From the traditional Rosogolla to the delicate Sandesh, Mishti encompasses a range of sweets that people of all ages enjoy. Whether it's a celebration, a festival, or a casual gathering, Mishti is always present, adding an extra layer of sweetness to every occasion. The popularity of Mishti has now spread beyond the borders of Bengal and is enjoyed by sweet lovers worldwide.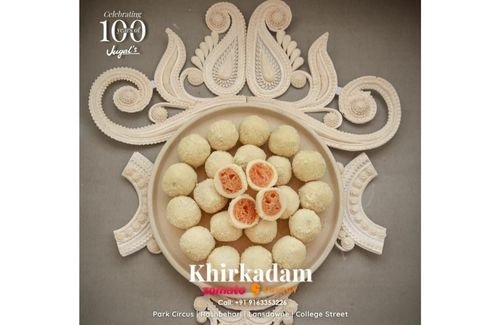 Jugal's aims to create a roadmap for a sustainable future of the Mishti industry, conserve the art of Mishti making, and put Mishti on the global culinary map. The festival will document the journey of Mishti through Bengal's history, literature, cuisine, politics, and religion, among others. The research activities will continue beyond the festival to geo-map every Mishti shop in West Bengal, starting with Kolkata. The latest updates can be found on the official website, www.jugalslitfest.org.
Mishti can be enjoyed in many forms and variations, each with its unique taste and texture. Some of the most popular Mishti include Rosogolla, Sandesh, Laddu, Kalo Jam, Sondesh, and Cham Cham. These sweets are made from a variety of ingredients including chhena (cottage cheese), milk, sugar, cardamom, saffron, and sometimes even fruit and nuts. The end result is a mouth-watering treat that can be paired with a cup of tea or enjoyed on its own.
In conclusion, Mishti is a rich and vibrant cuisine that has been treasured by the Bengali people for centuries. Whether it's a special occasion or just a daily treat, Mishti continues to bring joy and happiness to people's lives. So, whether you're a sweet tooth or not, a taste of Mishti is sure to leave a lasting impression on your palate. And Jugal's is pioneering in conducting the best ever Mishti literary fest worldwide making Kolkata a place for global meet.