Jugal's Literature Festival celebrates mishti, a form of dessert unique to the Bengal region in South Asia, adored by 300 million Bengalis worldwide. The festival, which marks Jugal's 100th birthday and the first of its kind in the world, was held on February 11th and 12th, 2023, at the Kolkata Town Hall. It featured sessions with leading experts in the industry, including food historians, writers, culinary experts, dairy experts, economists and industrialists from within and outside Bengal.
Mr Krishna Kali Ghosh and Mrs Amrita Ghosh are proprietors of Jugal's, while Lahana Ghosh, the Director of Finance and Operations at Jugal's, is the Director of the Festival. The inaugural session featured a panel of dignitaries and a keynote address by Lahana, followed by a customary "Mishtimukh".
With multiple sessions here are a glimpse of few –
Mishti and Health: 
During the panel discussion on the health aspects of mishti, Dr Sudip Chatterjee, an endocrinologist and Founder Secretary of Park Clinic, highlighted that mishti, unfortunately, delivers a high amount of calories quickly to the bloodstream and reduces sugar as rapidly as it spikes remains a challenge. Dr Avery Sengupta, an Assistant Professor in the Department of Food and Nutrition at the University of Kalyani, pointed out that many misthi or sweets use jaggery instead of refined sugar, which provides more minerals and antioxidants.
Moreover, unlike confectionery, mishti does not contain imported palm oil, which is high in saturated fat and detrimental to health. Dr Sengupta concluded that, in moderation, mishti is a better choice than confectionery.
Researching Sweetness in Epar and Opar: Caste, Labour and changing aesthetics:
Dr Ishita Dey, an assistant professor and food anthropologist at South Asian University, discussed sweetness in Epar and Opar with food writer Sibendu Das. Dey noted that sweets in Bangladesh tend to be sweeter due to a preference for older preservation techniques like sugar coatings instead of refrigeration. Moreover, in Bangladesh 'karigars' are caleld as 'Ustads' – a more dignified name. The conversation delved into the varying labour practices in Bangladesh and West Bengal, highlighting the sharp divide between Hindu and Muslim practices.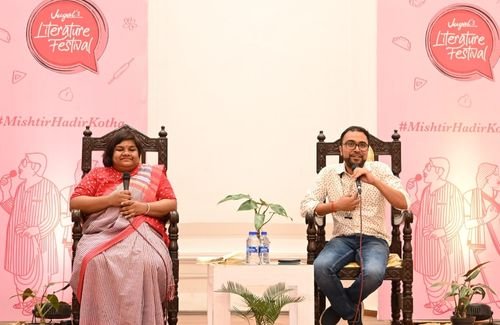 Mishti'r Kolparambha:
The panel included Subhajit Bhattacharyya, Lost and Rare Recipes' co-founder and former event management professional; Indradeep Narayan Banerjee, a lawyer and Bengali culture expert; and Indrajit Lahiri, a food blogger. The moderator was Dr Amartya Saha, a professor and digital content creator.

During the discussion, Bhattacharyya shared his favourite vintage recipes, such as jaupitha and onion payesh. He traced the first mention of mishti to the Rig Veda and highlighted the multiple origins of this sweet delicacy. He gave examples of how jalebi or jilipi, once known as jolobhollika, originated from Baghdad, and gulab jamun came from Persia. As cultural exchanges took place with people from other parts of the world, more ingredients like maida flour, cinnamon, and peppercorn became part of the cuisine.

Moreover, he explained how chana or cottage cheese, was introduced to Bengalis by the Portuguese. Earlier, people believed that as the gods gave milk, curdling was a sin. As villages evolved into townships, mishti also transformed, such as in places like Chandannagar and Krishnanagar, resulting in a revolution in mishti-making.
Lahiri emphasized how mishti is an integral part of Bengali culture from birth to death, but documentation of the same is very poor. The aim should be to document how each family maintains its heirloom recipes and preserve them for posterity, ensuring that mishti-making remains a sustainable business and industry.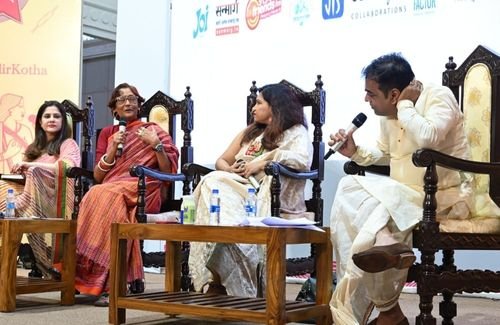 The Art of Mishti:
During a discussion on mishti, Bangladeshi fashion designer Bibi Russell emphasized that mishti-making is an art form requiring culinary and design skills. She also highlighted the importance of good packaging for selling products. Shaon Sen, Additional Secretary of the Department of Labour, noted the absence of formal training for mishti-making, which threatens the craft's survival. Saira Shah Halim added that despite women's significant role in mishti-making at home, men tend to dominate the commercial aspect of the process.
 Well, as the sessions continue to speak about the various aspects of mishti and the industry, Jugal's believe that it is not a one day affair. The flagship event started and will spread through the year to various places in different ways. Till then lets mishti!