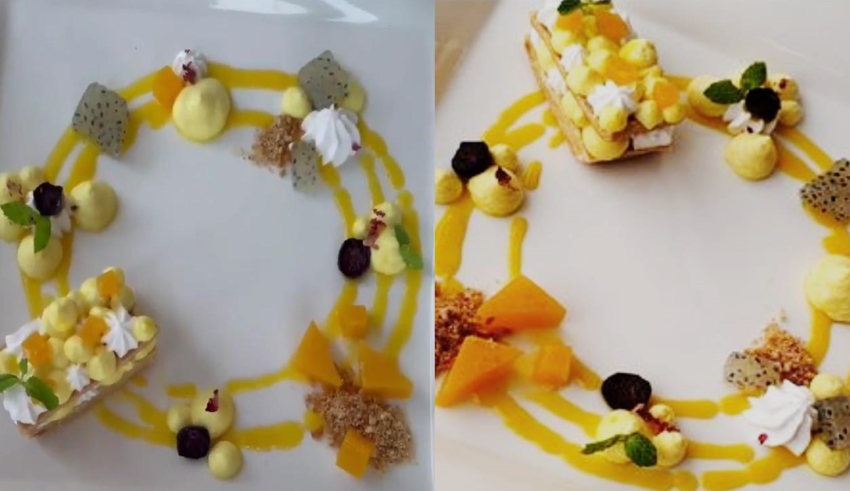 This is a unique recipe that is made up of leftover biscuits (sweet), and it is a multi-nutrient dessert that includes all healthy ingredients such as chia seeds (Chia seeds are high in omega3 and a boon for vegetarians), Cinnamon (Help in reducing blood pressure). Breakfast cereals, fruits, peanut butter (peanuts help prevent heart disease by lowering cholesterol levels), Milk(which is an excellent source of vitamins and minerals) etc.
Ingredients:
Breakfast cereals (1 cup)
Butter(50grm)
Peanut butter(3 tbsp)
Leftover biscuit crumbs (1 cup)
Fox nuts(1 cup)
Mango cube 1/2 cup
Mango puree(½ cup)
Coffee(1 tbsp)
Chia seeds soaked(2 tsp)
Milk(½cup)
Whipped cream(½ cup)
Mango flavoured whipped cream(½cup)
Cinnamon (½tsp)
Blue Berry's (dry)
Sugar(¼ cup)
Procedure of Biscuit Tiramisu:-
Churn the leftover biscuit crumbs, fox nuts, breakfast cereal, and sieve them. Now, we will prepare a mixture of coffee, milk, butter, cinnamon. Boil until the butter melts. Turn the gas off and set it aside until it cools. We will prepare a dough using the churned ingredients and the coffee mixture.
Roll the dough into a thickness of around 5 mm by keeping it between two OHP sheets or butter paper and give it a shape of your choice. Now, spread the peanut butter on the prepared dough and the whipped cream using the nozzle of your choice. Add mango cubes, chia seeds, blueberry; now, keep the same layer of the dough and decorate the top with peanut butter, whipped cream(both flavours), mango cubes and mint leaves.
For plating, we can use mango puree (To begin with, take mango, wash them under running water and peel them. Also, chop and put the mango in the blender and strain it for a smoother texture; now add sugar and stir it for 5-7 min on medium flame ). Garnish it with mango cubes, chia seeds (refrigerated in cubes), mint leaves, blueberry, rose petals and whipped cream of both the flavours, biscuit crumbs mixture. It is recommended to chill it for half an hour before serving.