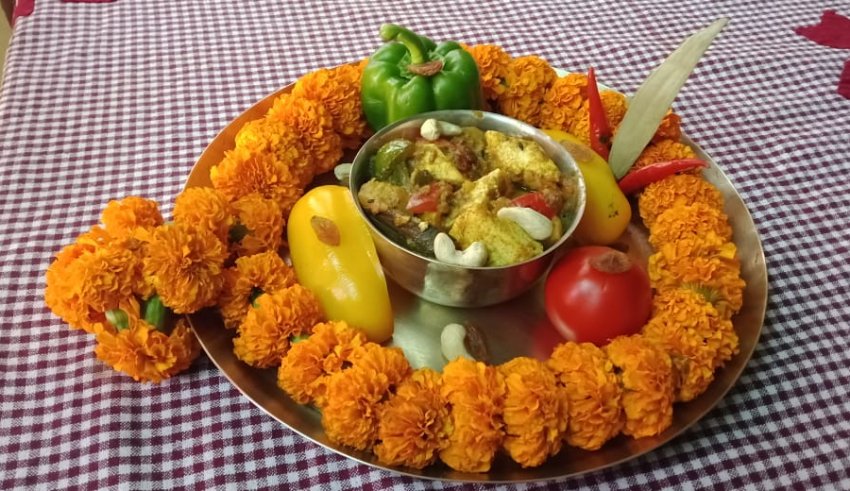 Recipe: Manohora Paneer
Ingredients for Manohora Paneer:
Paneer – 200 gm
Grated Capsicum – 1/2 cup
Cashew (kaju) paste – 4 tsp
Raisin (kishmish)paste – 2 TSP
Poppy (posto) paste – 2 tsp
Ginger paste – 1/2 tsp
Milk – 6 tsp
Rose water – 1 tsp
Yoghurt – 25 gms
Cardamom (Elaichi) – 3 pcs
Cinnamon(Darchini) – 2 pcs
Tejpata (Bay leaf) – 2 leaves
Red dry chilli – 1 pc
Tulsi leaf – 1 pc
Ghee as required
Salt to taste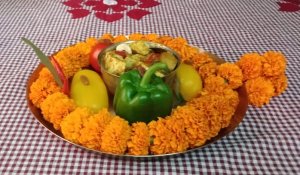 Process:
Take a frying pan and heat ghee into it. Take all the spices or masala in a bowl and mix well. Pour this in the pan and sautee it. Drop the paneer cubes and capsicum in the mixture. Now, add milk to it followed by rise water, salt and sugar as per taste. Cover the pan for couple of minutes. Give drops of ghee on the top of it. Add Tulsi leaf to the recipe and serve it to gopal.