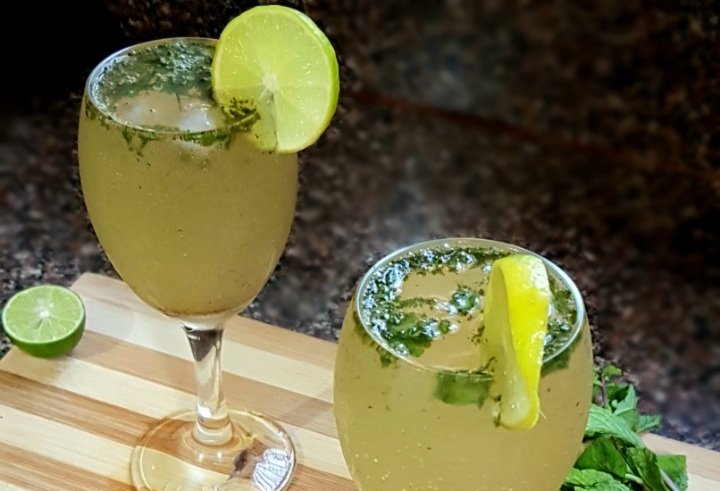 Summers are always tough and country like India has to struggle hard for a blissful summer. However, with growing global warming and arid areas the only thing that can keep us cool is cool drinks with natural fruits. It is both good for immunity and best way to beat the heat.
 Mint
Mint is the herbal star of summertime sipping, which can subjectively improves cold symptoms & also helps in digestion, Mint is a particularly good source of vitamin A, a fat soluble vitamin that is critical for eye health and night vision.
Honey
As we all know honey has antibacterial, antioxidant & antifungal properties. It has multiple   benefits, which is good for skin hairs and a lot more things.
Lemon
Lemon is a good source of vitamin C which is helpful for hydrating our body. It also  support   weight loss.
Mixing all together this drink has also an ability to give strength to boost immunity, which is much needed thing in current situation, this drink could surely drool up your mood & you will feel hydrated; & the best thing about this drink it not only takes very less time to prepare but also need very less amount of commodities. Take a lookdown to the recipe for this healthy & tastier drink.
Preparation time : 10 min
Serving: 2 Person
Ingredients for refreshing Honey Mint Drink:
Fresh mint leaves (little crushed): 10 no
Lemon juice:                                      2 tbsp
Honey:                                                 2 tbsp.
Black salt:                                          1/2 tsp
Pepper powder:                                 1/4 tsp
Roasted cumin powder:                  1/4 tsp
Water:                                                150ml
Soda:                                                    150ml.
Ice cubes:                                             6no.
To garnish lemon slice:                     2no.
 

Method for Honey Mint refreshing drink:
In a mixing jar or container add in all the above mentioned ingredients. Stir them well and strain to avoid residues. Take two pre-chilled glasses and pour the mixed drink by portioning equally. Then garnish with lemon slices and serve it chilled.
So, grab your favourite fruit and get your drink toss today!