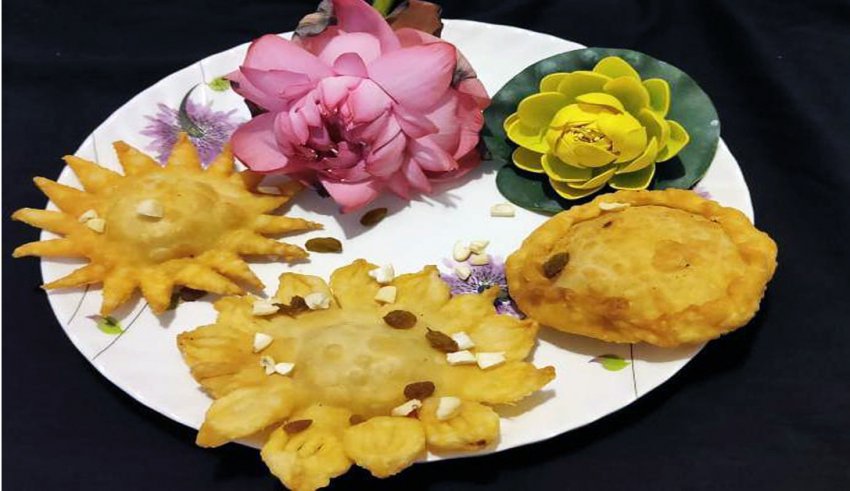 Lucchi is one of the staple food for any occasion especially for the Bengalis and Paddo Lucchi is famous for ages. This is a royal preparation. Earlier in the days of Zamindars, this was a famous recipe and thus is considered as royal. This is generally prepared for the 'Bhog' of Lakshmi, Gopal or Durga Puja. Though it has perished with time and can be rarely seen yet some houses have upheld the tradition.
Ingredients for Paddo Lucchi:
Maida – 1 cup
Sugar – 1 tbsp
Baking Powder – 1 tsp
Refine oil – 1 tbsp
Ghee as required
Coconut – 1 pc
Makha Sandesh – 1 cup
Cashew (Kaju) – 10 pcs
Raisins (Kishmish) – 10 pcs
Ginger paste – 1 tbsp
Cardamom (Elaichi) powder – 1 tsp
Process for Paddo Lucchi stuffing:
First, let us prepare the stuffing for the Paddo Lucchi.  Take a frying pan and heat oil. Add ginger paste and coconut pieces to fry.
Now, add makha sandesh, coconut, cashew, and raisins. Mix everything well and sprinkle elaichi powder on it.
Add ghee and now the stuffing for the lucchi is ready.
Process for the Lucchi:
Take a bowl, add maida, powdered sugar, and water as per the requirement to make a soft dough. Make small balls to make the lucchi.
Flatten the balls, place the stuffing in the middle of the lucchi. Place another lucchi on the top. And mould the sides in the shape of a lotus.
Heat the oil and fry the lotus-shaped lucchi. It is ready to be served.