Serbia, a country in the Balkans located in Southeast Europe, is blessed with a rich cultural and historical heritage seen in its fortresses, castles, and palaces. It is also famous for its thrilling nightlife and legendary tennis player Novac Djokovic. Serbia is a warm and welcoming nation; this country is considered very safe for any tourist to visit. Indians enjoy visa-free travel to Serbia for 30 days for tourism purposes. In short, traveling to Serbia needs to be on your bucket list!
Serbia Travel Guide – Things to know while traveling to Serbia.
 Language: Serbian is the national language, while English is widely spoken in tourist areas.
 Transport: The best way to travel around the country is by bus! Busses and coaches visit significant cities, smaller towns, and great outdoor destinations. Renting a car is also an option, and take note, Serbs drive on the right-hand side of the road. Serbia does have international airports and trains that connect major cities internally and outside of the country.
Food: Serbia's cuisine is another unique and enchanting part of traveling to this country. The country's cuisine is a product of different influences over the centuries. Serbian food features a lot of meat, pastries, soups and hearty stews cooked with an exciting mix of spices and flavors! Dishes to try to include Rostilj (barbequed meat), Burek (a savory pastry filled with meat, vegetable or cheese), cevapi(grilled Serbian sausages) and Sarma (stuffed cabbage).
Where to stay in Serbia:
Finding a place to stay in Serbia is very easy, especially in the cities. Hostels, guesthouses and boutique hotels are all widely available. Private apartments are also trendy and can go through Airbnb or Booking.com.
Cost: Like other Balkan states, Serbia is an incredibly affordable travel destination, especially compared to western Europe. Guided group tours are a budget-friendly and convenient way to travel Serbia as the tour price includes accommodation, transport, most meals and many fantastic activities. One can also choose to avail of a customized private tour at a higher cost.
Getting into Serbia:
Welcome to Belgrade Nikola Tesla Airport, the leading international gateway to Belgrade, the capital of Serbia and is the largest and busiest airport. There are no direct flights from India to Serbia. To travel to Serbia, you need to use connecting flights. There are 10 airlines from India to Serbia, namely Etihad Airways, Emirates, Lufthansa, Qatar Airways, Jet Airways, Aeroflot, Air France, Turkish Airlines, Fly Dubai, and Swiss. Belgrade Airport is a hub for Air Serbia, Aviolet and Wizz Air.
Places to visit in Serbia:
Belgrade- The vibrant capital city
 Belgrade is famous and popular by several names, including "White City" and the "Gateway of the Balkans." It's perched on the Sava and Danube Rivers, creating a space for excellent riverside pedestrian boulevards and views.
 Belgrade city revels in its rich cultural and historical heritage. Visit and explore the National Museum, the Museum of Contemporary Art and the Nikola Tesla Museum. See monuments like the Church of Saint Sava, Belgrade Fortress and even the House of Flowers, which houses the tomb of socialist leader Tito. Spend time discovering the delights of Kneza Mihaila – Belgrade's central pedestrian zone and shopping boulevard. Check out Skadarlija, Belgrade's lively bohemian neighborhood and watch the sunset from Kalemegdan Park.
 Belgrade is renowned for its world-famous nightlife! Dance the night away at nightclubs, restaurants, bars, taverns and summertime river clubs called Splavovi. You can even party on river barges at certain times of the year! Belgrade oozes Serbian spirit!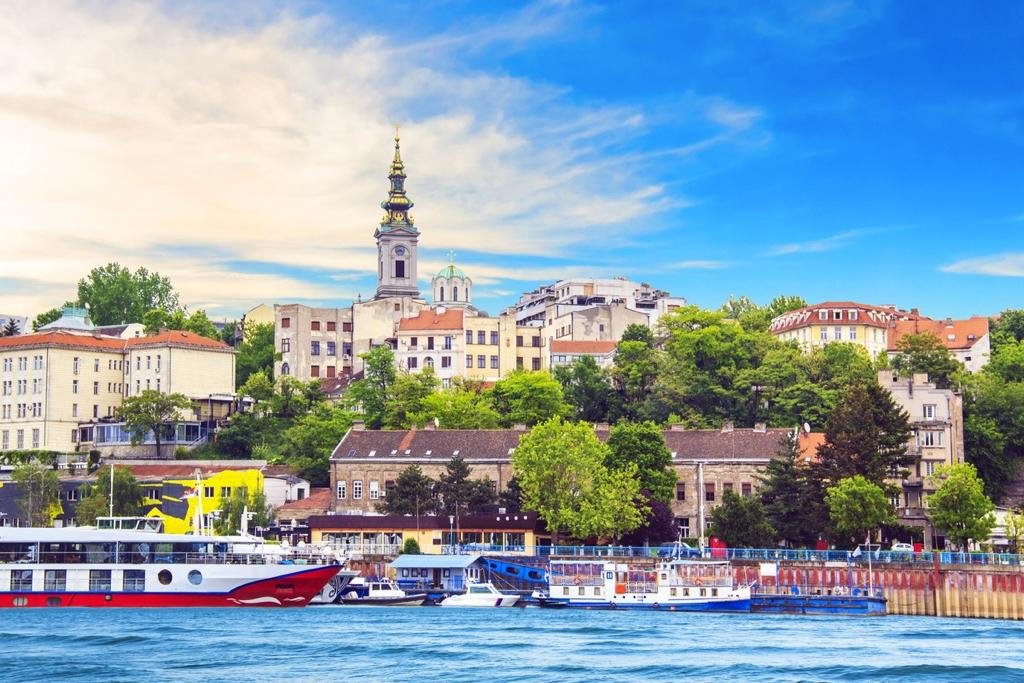 Novi Sad: The European Capital of Culture for 2022.
 Novi Sad is a city filled with stunning architecture and festival fun. The country's second-biggest city and one of the most ethnically diverse destinations. Surrounded by fertile plains and mountains, Novi Sad is a hub for urban art and culture. It's home to an elegant city center and the picturesque Petrovaradin Fortress, which hosts the EXIT festival every year in July – it's a super popular summer music festival held in an incredible location!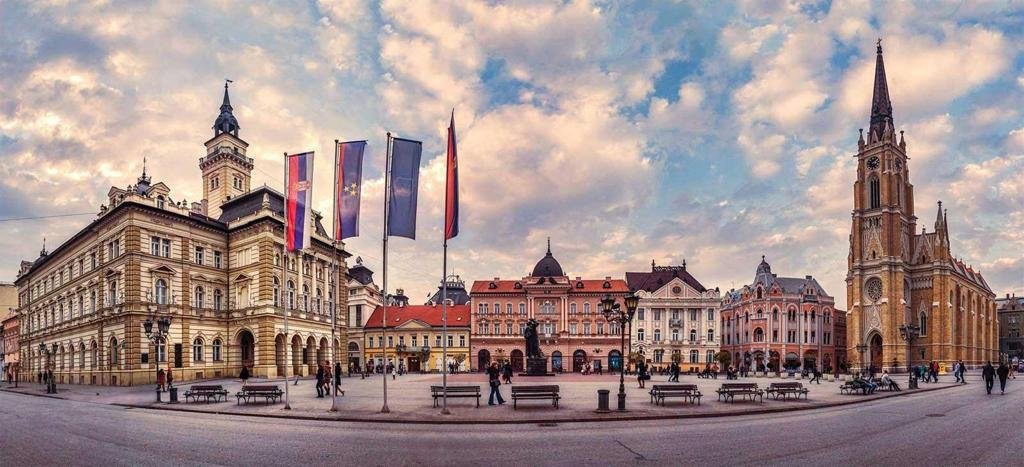 Fruska Gora: The Innovative Serbian Wine Region
Fruska Gora is a mountain in Serbia famous for its natural beauty and excellent wineries. Serbia has a long history of wine production, and some of its well-loved native varietals include Prokup and Zadina. Serbian wine is a must-have. Vineyards and 19th-century wine cellar villages crisscross the Serbian landscape. Many wine cellars are located on the Fruska Gora mountain slopes in the country's north. Other drinks to try on your trip to Serbia include coffee and rakija, a fruit brandy waring. It comes with quite a kick! Grab a glass and say "Ziveli!" (cheers!).
Niš: one of Europe's oldest cities
Another Serbian city that should be on your list is Niš. Found in the south of the country, Niš is one of the oldest cities in Europe. The Turks ruled it for nearly five centuries, and Ottoman influence can still find in the city today. Visit the Tinker's Alley, Niš Fortress and the haunting Skull Tower – an Ottoman-era building embedded with human skulls.
 Mokra Gora: Serbia's SECRET Mountain Paradise Destination
First-time visitors will usually visit Belgrade, Novi Sad and Niš but we'd suggest some other places. Belgrade is known for its vibrant nightlife, and the EXIT festival has put Novi Sad on the map. Even the Lonely Planet website recommends these places as top destinations, but we recommend something else. If you're into nature like we are, then head to Mokra Gora. You can easily see the nearby Tara National Park, Zlatibor and Visegrad in Bosnia & Herzegovina. It is an excellent base to visit some nearby destinations and is also a lovely destination.
Tara National Park:
Explore Tara National Park, which is a part of the Dinaric Alps. It offers beautiful views of forests, ravines, waterfalls, lakes and the Drina River Canyon – the third largest of its kind in the world! Here you can see the famous postcard-perfect scene House on the River Drina, which has become one of the main symbols of the area.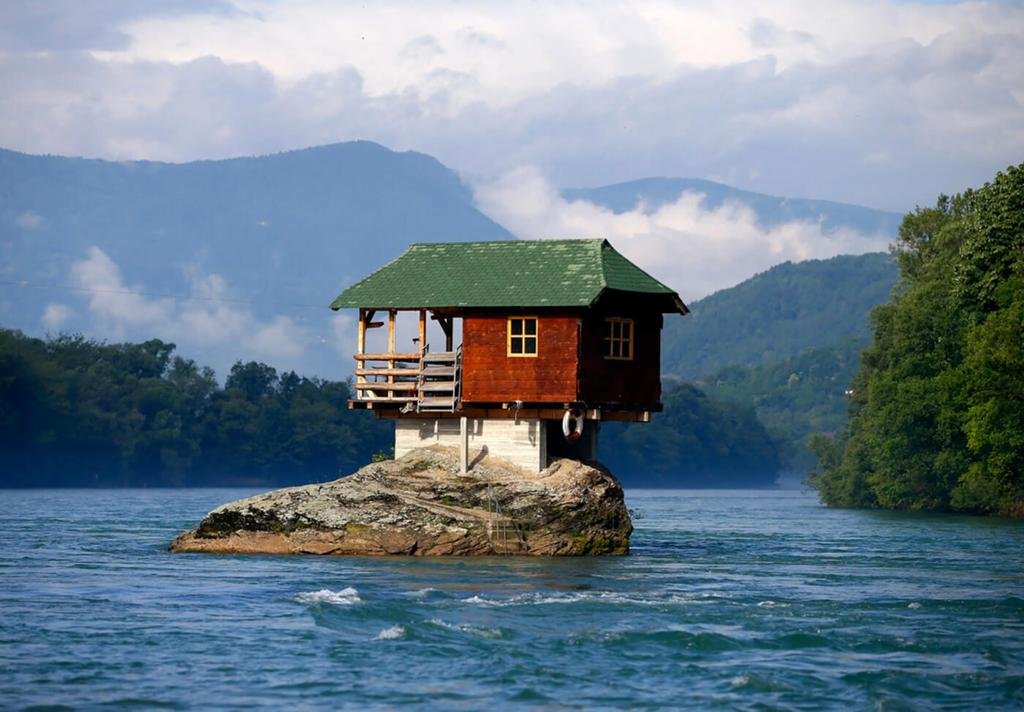 Đerdap National Park:
Make your way to Đerdap National Park, Serbia's largest and most dramatic national park. The main attraction is Đerdapskaklisura (the Iron Gates Gorge), an impressive 100km stretch of cliffs along the Danube River.
Uvac:
Uvac is a natural masterpiece. Visiting the mountain park and biodiverse Uvac Special Nature Reserve is a must. The highlight is winding through the magnificent bends of the Uvac Gorge on a slow motorboat. A must-visit is the Uvac Canyon – here, a bright green river winds through a magnificent canyon landscape.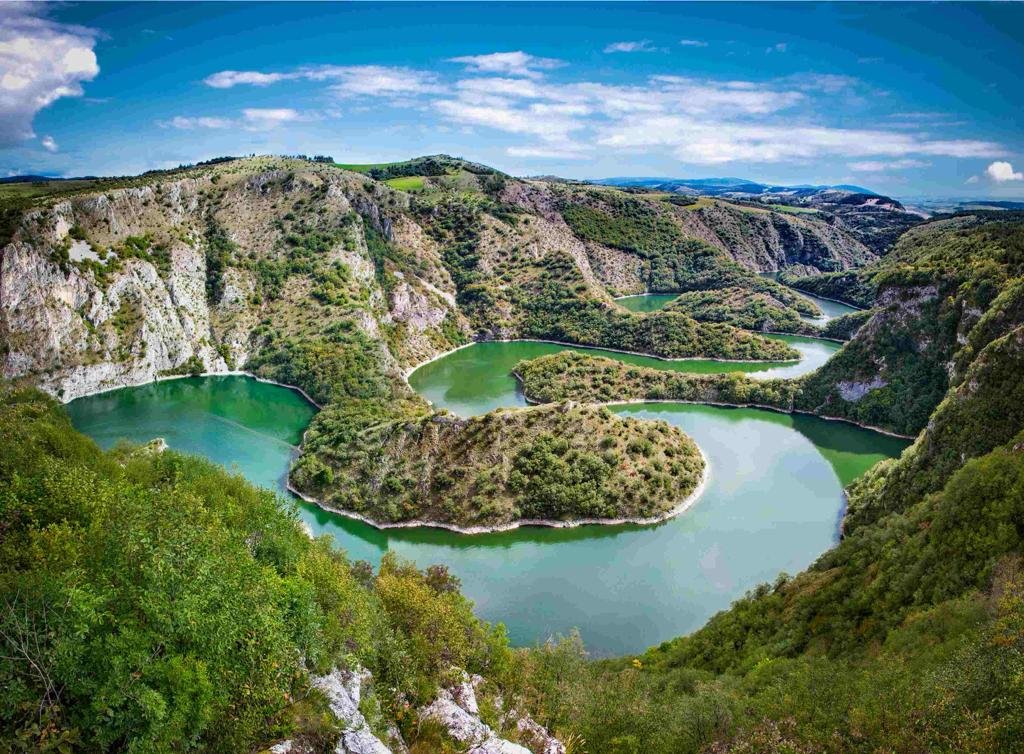 Sargan Eight Railway (Mokra Gora): 
Šargan Eight is Europe's most attractive narrow gauge museum railway. Authentic cars with wooden seats will take you back to 1925 when this railroad connected Belgrade with the Adriatic Sea. On a 15 km long ride, the train "Nostalgia" will pass through 22 tunnels, over 5 bridges, and overcome the altitude difference of 300 m. Also, it will stop at lookout platforms for the passengers to take memorable images of nature in Western Serbia. The most extended stop will be at Jatare Station, where you will climb a cliff to the observation platform offering a splendid panoramic view over the surrounding mountains. After a 2,5-hour ride, you will return to the departing point.
 Wooden Village:
Mokra Gora is well known for Drvengrad – Serbia's traditional wooden village and timber town elevated on a plateau between Tara National Park and the mountainous Zlatibor.
 Zlatibor and Serbia's Mountainous Region
 Continue 30 minutes south from Mokra Gora and journey through the mountainous valleys and open-air spa region of Zlatibor, which is more than its ski resort reputation. This area is a stunning circuit of hiking trails in spring and summer.
Gold Gondola Zlatibor: The world's most extended panoramic Gondola lift.
 The Zlatibor Gold Gondola Lift is at the heart of a significant tourist project linking the town of Zlatibor with the Tornik ski resort by air via lake Ribnicko. This new 9-km gondola lift has eclipsed the previous record-holder, the Tianmen Shan cable car (China), measuring 7.4 km. The total journey time is 25 minutes and treats passengers, skiers, hikers and walkers to breathtaking panoramic views of Zlatibor and its golden pine-covered mountain slopes.
 If you enjoy lively cities, intriguing history, and beautiful scenery, Serbia should be one on your must-visit destinations! Start planning your future travel through Europe and trips to Serbia today!