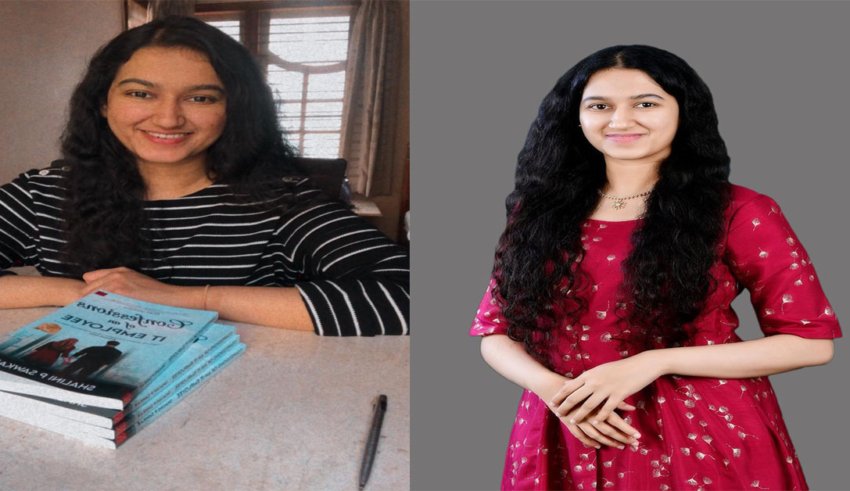 Literature has always been a source of enlightenment and encouragement. It was Tagore through whose written tales we can witness the past society and feel elated to connect to our present in a better and relatable way. Books, the sole source of pure information, can groom your soul and such a literally groomed soul is Shalini P Sawkar, Woman of the Month in March 2021.
Being a writer is not a profession of ease. It needs dedication, intellect, power of weave tapestry of words and a strong connection with the readers. Let us peep into Shalini's library to check what books she has in her store.
Shalini P Sawkar – Confessions of a Writer
WT – How are you in this Covid situation?
SS – The times are challenging. Most of my events have been postponed. Professionally, nothing has been very different. I am a writer, so I have been working in isolation. It is nothing new for a writer. But, personally, life is not the same. Meeting our friends and relatives have been prohibited so social isolation is crippling through doors and windows.
WT – Being an author, do you think it is a challenge to keep your work rolling all the time?
SS – It is as challenging as any other career. Writers never get a break. Our brain is working more on holidays. I mostly keep taking inspiration from nature.
WT – I can very well connect with you, being a co-author myself. Do you think that there are two kinds of writers? Which type are you?
SS – I am a bit of both. When you find something interesting around you, you have to note it in a diary. So, it would help if you did not forget it. Story writing is different. I look through the ideas and then build on the pictures.
WT – Give a quick introduction about your childhood journey towards writing.
SS – We have had a very different experience with books. More than Kindle and audiobooks, we have been exposed to paperbacks and hardbacks. The feel of the paper is authentic. I have always loved books. Being a 90s kid I started reading since I was a 5 year kid so reading for me definitely is Traditional.
WT – There are two feelings when you read a book. What goes on in your mind when you write?
SS – I write realistic fiction and fantasy. I do want my readers to identify with the characters. So, I want to write relatable characters. I believe that characters can do what you can't. Your unfulfilled dreams can be a reality through your characters.
WT- How are commercials working in this industry?
SS – I don't encourage any writer to write for free. A lot of hard work goes into writing a story. I request all readers to read local and non-pirate copies. It is not easy to get a breakthrough in any industry. Amazon is good for books for authors of all genres. Writers can expect their nominal benefits.
WT – What would you tell young or novice writers? Any tips for them?
SS – Read a lot of books to have a basic idea of the genre. Read a lot of fiction and non-fiction books. Find what interests you. Then, only you can write for others. Have a strong hold on grammar. You would need multiple edits. You should put feelings into the characters as well. But, do not get depressed while trying to become a character as a writer.
WT – The book Confessions of an IT Employee is the latest novel publication. It has received two awards in literature. They are the Most Promising Fiction Category and Sharing Stories in Romance Category. Can we hear something from it?
SS – I will read out a line from the book.
'In becoming an adult, I had meticulously lined my footsteps with those of everyone around me and steered as far away from my dream as I possibly could… But was my dream ready to let go?'