Occult experiences do not come to everyone, but when it does, those special people become the torchbearer in society to help others come out of their problems and realize their true potential. Sshreevidhyaa is one of them who has been continuously for the last 8 years serving the society through her practices and formulations. Born to N A Sivaram and Jayalakshmi Sivaram, Sshreevidhyaa has soared the excellence in divinity.
PC: Tell us something about your tryst with divine intervention in your childhood?
SS: There were many fun incidents, like once our television set was not working, and I just made some gestures with my hand, and it started working. Likewise, there were many anecdotes, and my mother started believing I was a magic girl. I do not know, but when I was 5 or 6 years old, my mother would call me 'Magic Girl' back then, it was all fun for me as people would give me chocolates or a lot of attention. There was an aunty in our locality who, when had any missing case, would call me at her home, lit a lamp and ask me if I could see the missing person. I would rightly identify most of the time, and the family whose family member was missing would go to that place to find their loved one.
Well, then, I was oblivious to these activities and was contended with the attention and chocolates that I received. Later, when I grew up, people near me said they were not well and could not attend an occasion of mine. I would say wait; I will make you alright, and trust me, they would become alright. Very unusual for my age, I would talk to myself, inanimate objects, plants, animals and the whole Universe.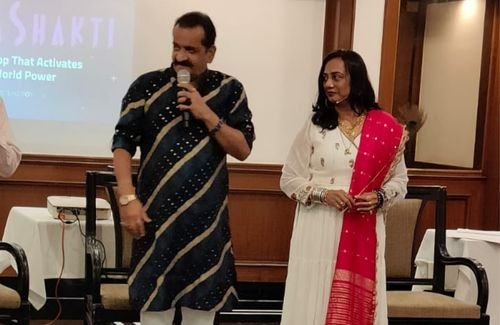 Unknowingly I was into manifesting things in my life. For instance, if I wanted a ladybird cycle, I would imagine my father buying one. I never asked for it. Another instance was I badly wanted a fairy dress, and someone gifted it to me on my birthday.
Now I know that these were all techniques I used then to attract things in my life. All my desires got fulfilled just like magic.
PC: You have been working with crystals and gemstones. How did it start?
SS: Yeah. Crystals and gemstones are my passion. It all started when my mother was diagnosed with diabetes and was on medication. Why would she be on so many medicines? Is not there any other way? Then I started exploring gemstones and crystals and their positive impact on people and their health.
When I was a line producer in the film industry, and I was shooting, I could predict things like someone would not turn up or the shoot may get delayed and all. And the predictions would always get right. People started looking up to me for the solutions to their problems. They started calling me the 'Occult Queen,' and someone suggested attending a session. I attended, and later through a common connection there, I received a workshop message on DNA activation. The concept itself was quite fascinating. There I met my mentor. I did the DNA activation, and it transformed me. I was full of energy, and people around me were scared. He guided me, and he could realize that I was different and equipped with psychic powers. The activation session activated all my inner powers. He then hand holded me and taught me how to neutralize the excess energy.
Now it is a different space, and for this, I must thank my mentor, Sshrivirral Manek, a mystic healer, for holding me through this journey. My mentor, Sshrivirral Manek, motivated me to create the brand – Mahashakti for the material benefit of the people the fastest way to achieve your material desires. He made me research and run through before i presented it to the world. . and in every workshop together we keep on creating more magic for people. I always wanted to escape this, but even the industry people slowly called me up and sought advice related to their personal and professional life. I helped them come out of their pain.
My father used to teach me a lot of mantras. Being from a Brahmin family, mantras played a big role in my life and how I used them in the healing process. My father taught me about mantras and also explained how they work for us. So he is also one of the greatest mentors in my life. I can do Vaastu correction without damaging the interiors by using essence. I helped many come out of the poverty consciousness and achieve their desired results. Credit to be given To Divya Sshakti which changed and transformed my life and I created Mahashakti. I am also a contributer in DivyaSshakti from being an organiser to a contributor.  I also work with the parallel world, which I use in my workshop 'MAHA SHAKTI' session. This workshop fetches tremendous results.
You know the Divine does not see if you are eligible, but whether you are available, if you are available, the magical divinity happens.
PC: The awareness or knowledge about this field needs to be clarified. What do you think regarding this?
SS: It is not that people do not understand, but you see divine plans happen to you when you are ready to accept them. You can only get an appointment if you are ready or you are in doubt. But once you come, something connects, and things fall into place. Your inner soul must be ready to accept the healing.
PC: How do you connect your profession with women's empowerment?
SS: For me, women empowerment will happen when women realize that there is a Goddess within. So far, I have saved 17 marriages, but I have also suggested many women come out of toxic relationships. There are two types of thought processes – one where a woman is ferocious and the other where she sympathizes. There should be equilibrium. Often, women ignore their inner calling and continue being victims until they reach a point of no return, and then they fight back. It is important to understand the scenario in the beginning.
If you want to be a star club member use the WhatsApp link – https://chat.whatsapp.com/CfHyBlovwAoJBDO44qUagG
PC: You have a wide range of products to solve finance-related, relationship or other problems. Please tell us about your products.
SS: I have amazing products that are personalized and energized for someone's specific problems. It is not like it is in the store, and I am pulling out of the stock and giving it to you. Every product is customized. I work with gemstones and crystals because they talk to one if you can understand. These are created and curated products.
PC: After 10 years, where would you like to see yourself?
SS: I can imagine myself in a space full of greenery. I plan for a meditation center where people can come and detoxify themselves and revitalize themselves for their journey. I do a lot of activations like money power, relationship power, and any other problems. I am a certified DNA activation practitioner, certified emotional intelligence trainer, and International Astrological Convention as Numerologist and Psychic trainer.
PC: For your success and identity, whom do you give a share of credit to?
SS: I give a lot of credit to my parents, who have taught me to take responsibility. If you have messed it up, you must also clear it. They always told me that you do whatever you want to do, you may, but take responsibility. Don't come crying to us.
PC: Which products and services would you like to recommend to other
SS: I highly recommend my psychic reading, money-attracting ittar and certain gemstones that work very fast. My products are my baby, and I have curated all of them. I recommend the magic wand and mystic pendant to everybody. It looks like a Harry Potter wand and cleanses the aura immediately. I work with essence, and it works fast.
You can contact her through her page https://www.facebook.com/sshreevidhyaa or Whatsapp her at +91 7039011755