When the Suryadev (Sun God) enters Mesha Rashi (Aries), Bihar celebrates its New Year and that is why it is also known as Mesh Sankranti.
Different regions call the Bihari New Year by several names such as Satuani/Satuan, Basi Bhaat or Jud/Jur Sital. People celebrate this festival at the end of Chaitra and the beginning of Baisakh as it marks the start of summers. Like every regional festival of India, this also has deep importance due to the food items prepared during the celebrations. The food prepared and eaten in the Bihar version of its New Year has widespread benefits. During this festival, the Kharif crop is also celebrated.
This part of Northern India is famous for its varied traditions and festivals, so Satuani/Satuan, Basi Bhaat and Jud/Jur Sital are different sides of a same coin. The festival is same but there are certain differences in the way of its celebration. Thus here we are going to discuss the various procedures of observance of this fiesta.
Satuani/Satuan –
Bihar is the land where Maa Ganga (Holy Ganges River) flows with its valour and the inhibitants pay enormous respect to it. The day of Satuani/Satuan starts with a dip in Holy Ganges accompanied with Daan (Charity) to the poor. This Daan comprises of food in earthen pots.
The food eaten in this festival is also very riveting. We all are aware of Bihar's love with its Sattu (Roasted Gram Flour). As the name of the festival itself suggests, the main ingredient consumed on this day is Sattu. Sattu is accompanied with raw onions, raw mango, cucumber and tisi/alsi (flaxseed) chutney. All these edibles are topped with some rock salt and roasted cumin powder. Jirwani/Chhach (Buttermilk) is also consumed on this day.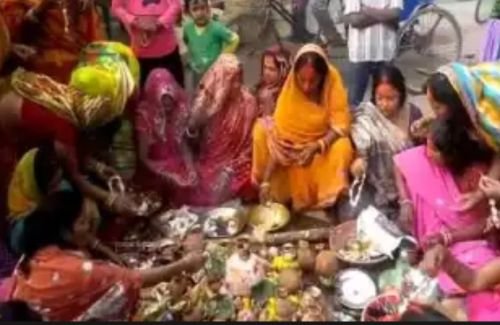 In some families a mango pallo is installed in earthen pot and sattu and jaggery is offered to Sun God. Later on people take this sattu, jaggery and mango as Prasad. Some households make chutney by grinding raw mangoes and then mix it with sattu and offer it to Sun God and then consume it as Prasad.
Sattu is consumed in various ways like sattu ka chokha, sattu filled litti and sattu ka sharbat (sweet or salty). It contributes greatly towards the health of an individual due to its richness of protein. I love to call Sattu ka sharbat as India's own protein shake. It often depresses me to see our today's generation falling prey to the marketing gimmics and forgetting our traditional food which is highly nutritious. The food consumed during Satuani/Satuan is seasonal and have a cooling effect on the body.
These food items prepare an individual for the scorching heat of the summers. Sattu being a rich source of protein keeps you fill for a long period of time. Onion and raw mango prevents from heat strokes. Buttermilk and cucumber are body coolants and flaxseed is a rich source of omega 3 which adds to the nutritional value of the food.
Basi Bhaat or Jud/Jur Sital –
Residents in the Mithila region of India and Nepal celebrate Basi Bhaat or Jur/Jud Sital on the day after Satuani/Satuan. This holiday is also referred to as Nirayana Mesh Sankranti and Tirhuta New Year. The sun enters the Aries sign on Niryanam (Vernal Equinox), resulting in the name Niryana Mesh Sankranti. The Maithli calendar is called the Tirhuta Panchang, hence the name Tirhuta New Year.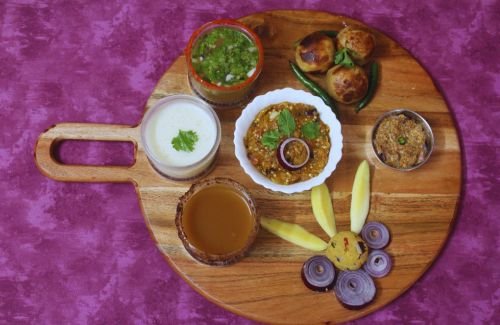 On this day, the Chulha Maharani takes a day off, and the family consumes the food they prepared the previous night, which includes traditional dishes like kadhi-badi, kheer, dalbhara (lentil-filled puri), puri, and other Mithila regional foods. The next day, they pack the stove for the day.
During this day, they close the kitchen, give the Stove Goddess or the Chulha Maharani a day of rest, cool, clean, and worship her. On the night of Satuani/Satuan, people offer the food they prepare to God and Goddesses in the Puja Ghar (Worship Place) before consuming it. Many families follow the tradition of keeping water in earthen pots or conch shells on this day.
They sprinkle this water on the whole house, courtyard, trees, and themselves on the day of Jud/Jur Sital. People believe that sprinkling this water purifies,
Some areas refer to it as Basi Bhaat. In these locations, the custom is to mix cooked rice with water on Satuani/Satuan day, and then serve it with kadhi-badi, roasted red chilies, raw mango, and tisi/alsi (flax seed) chutney. This water soaked rice kept overnight acts as a coolant for the body during summers. Its overnight soaking in water ferments it a little bit and is thus gut friendly also.
The day of Jud/Jur Sital also seems like an extended Holi and Uttrayan or Makar Sankranti in Mithila. People apply the silt of rivers on each other, similar to how colors are applied during Holi. This practice is believed to protect against sunburn and treat other skin issues. People also fly kites on Mesh Sankranti like Uttrayan or Makar Sankranti.
Science behind festival:
The festival of Satuani/Satuan and Basi Bhaat or Jud/Jur Sital falls on April 14 of the Gregorian calendar. This day is not only limited to its religious significance but also has scientific magnitude. The water offered on this occasion to the trees help in inculcating the habit of watering plants thereby spreading greenery. The green plants produce more fruits, flowers and most importantly oxygen there with reducing Global warming. Thus it is not only helpful for a particular region or nation but it contributes to the betterment of the whole world.
Mithila Diwas:
In the year 2011, the Bihar Government has declared April 14 as Mithila Diwas and a public holiday is declared on this day. Many Indian states like Tamil Nadu, West Bengal, Assam, Kerala, Manipur, Orissa, Tripura and Punjab also celebrate this day as their New Year with different names like Poila Baisakh, Baisakhi, Rongali Bihu, Vishu, Odia Nababarsha, Puthandu etc. India is a proud nation with unity in diversity. Hence the names of the festival may be diverse but the feeling is mutual and thus our festivals unite us as one big united nation.