Hope is what makes the world go on and on. It makes us strong and looks forward to the future. We all fight with 'Hope.' The organisation, Hope Foundation, runs with deep-rooted values and fights for a global cause.
The Director Hope Kolkata – Geeta Venkadakrishnan
Being a South Indian, and having stayed at Barrack pore, she started off as a teacher. During her earlier days, she visited the Gandhi Leprosy Center in Titagarh. It is one of Asia's largest leprosy centres. The children over there were deprived of school. So, Mrs Geeta's inquisitive mind started veering towards the educational needs of such children. There she also met her inspiration, Mother Teresa. Mother taught about unconditional love as well as humanity. She also taught in St. Augustine School and Kendriya Vidyalaya for a while. She used to visit Sealdah for college and came across a child stealing from her bag. She caught hold of him. The child said, he was hungry. She met him often at the station. The incident left her disturbed and she felt the need to do something for society. Then she met Maureen Forest, a volunteer. They clicked instantly, and then they set up the organisation in 1999. Mrs Geeta was also involved in various service activities such as providing relief to earthquake victims in Bhuj and in Tsunami relief work and livelihood, helped in rescuing and rebuilding the lives of people in emergency relief work during several catastrophes in Kolkata etc.
The Journey So Far – From the Lady Herself
The Hope Foundation started with 14 children. Now, we have protection homes for women. We cater to girls, boys, as well as their mother. We also help lost children look for their families. Moreover, we take care of the orphans to 18 years. If they want to go for higher education, we get them sponsorships. We have a boy's home as well as a girls' home.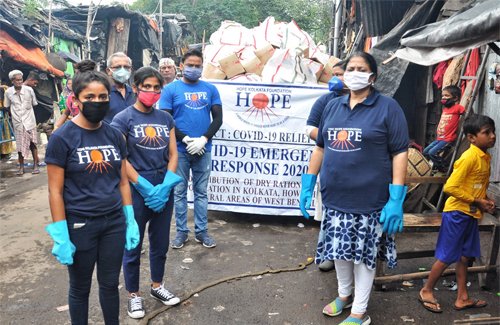 Moreover, we have rehabilitation centres. Some children go for vocational courses. We place 500 students from around the city in jobs annually. They include insiders and outsiders as well. We have Hope Hospital in new Alipore having 47 beds. Currently, we have opened 10 COVID beds in the hospital. We also support children with special needs. Apart from that, we have anti-trafficking programmes as well. We believe in capacity building for the under-
privileged.
Key Achievements & Awards
We have received several awards, including ICC award, Karamveer Puraskar, American Foundation, Aparajita Award, and Asadharon award, to name a few.
AMPHAN Relief –
We distributed ration from March 25th onwards to many slums in Kolkata. 1,25,000 rations were supplied to Gosaba, Kulpi, Mathurapur. We distributed tarpaulin and electric lamps.
Challenges During Covid-19
Special educators are visiting homes to teach. The teachers teach mothers through smartphones. Mothers help children by enacting those actions live. Social workers are visiting the communities and teach them in the maintenance of social distancing norms. We teach them hygiene and healthcare and are sponsoring 3,000 street children in higher education. We have a child watch project. Our social and medical teams attend to street
children and slums in the evenings. We will support other 7000 families. Companies like HSBC, Oxford, The Gateway Hotel, and 3M are supporting us.
Message For Society
Today, everyone should help each other. Don't demarcate COVID19 patients. Stay positive and maintain sanitisation norms with masks and sanitisers. Co-operate with other people.