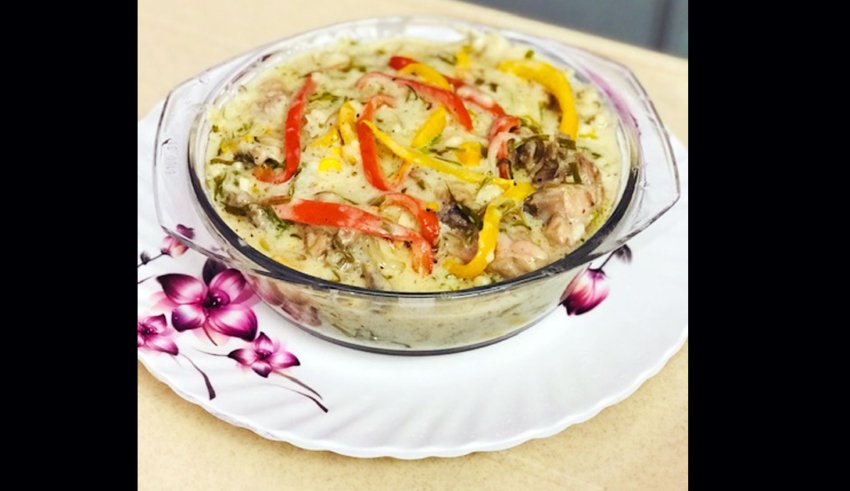 Creamy Chicken is a mouth-watering and nutritious dish. The chicken is popularly known for its health-boosting properties. Accompanied by vegetables and nutritious food items like ginger, garlic, pepper, milk et al. Creamy Chicken with white sauce and a lot of veggies will surely be a treat for any age group.
Ingredients for marination:
Chicken
Ginger
Garlic
Lemon
Salt
Pepper
Ingredients for Vegetable fry:
Bell pepper (red)
Bell pepper (yellow)
Spring onions (seasonal)
Onion
Sunflower oil
Ingredients for white sauce:
All-purpose flour
Cheese
Butter
Salt
Italian seasoning
Milk
Method for Creamy Chicken:
Marinate the chicken with ginger, garlic, lemon, salt and pepper and keep aside for 3-4 hours. Put oil in a pan and fry all vegetables. When partially cooked, mix the marinated chicken in the pan and fry together.
White sauce preparation:
Put butter in a separate pan and put milk and flour. Mix it well so that there is no lump. Then put salt, pepper, Italian seasoning in the mixture. When it starts boiling, then put the chopped spring onions and mix well.
Finally, put all vegetables and chicken in the white sauce and mix well. Once properly mixed and cooked, serve in a bowl. You can sprinkle red chilli flakes on the top to garnish.