Crab gives you abundantly Omega3 fatty acids (long-chain) that are of high quality. Rich in vitamins, minerals, it has low-fat content. As a sea-food, the crab is blessed with phosphorous, zinc and many other vital nutrients. It has more protein value than one can get in meat. Easily digestible for all age groups, crab is a favourite of most Chefs across the globe. Selenium in crab acts as an anti-oxidant thereby reducing cell damage and help in repairing damaged cells. Vitamin B12, also found in crab, helps in iron absorption and improving skin, eyes and the nervous system. With so many qualities, one dare not to include crabs in their diet.
Ingredients for Deviled Crab:
1 cup chopped onion
1 cube butter
2 tablespoon bread crumbs
Salt ( as per taste)
1 egg
2 cheese slice
1/2 teaspoon chilli flakes
2 tablespoons mayonnaise
1 cup crabmeat/shrimps chopped
4 cloves garlic, chopped
Suger ( as per taste)
One boiled egg
2 Crab shell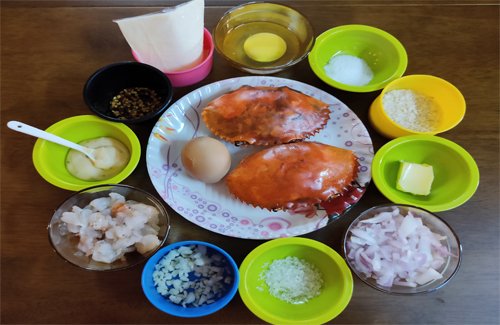 Recipe:
1. Take a small pan and butter it. Cook the onions in the butter over medium heat, until they turn translucent, for few minutes. Add the garlic and shrimps and cook for another minute or two. Turn off the heat and let it cool for 10 minutes or till it cools down.
2. Meanwhile, in a large bowl, add all the remaining ingredients, except for the boiled egg and the shell. Mix well. Preheat the oven to 300F.
3. When the onion mixture has cooled, mix it into the assortment. Stuff the mixture into clean fried crab shells (fry the shells separately). Add the cheese over the stuffed shells evenly.
4. Bake for 7 minutes, and garnish with boiled egg and coriander leaves.
Hope you will enjoy my recipe. Stay safe and healthy!