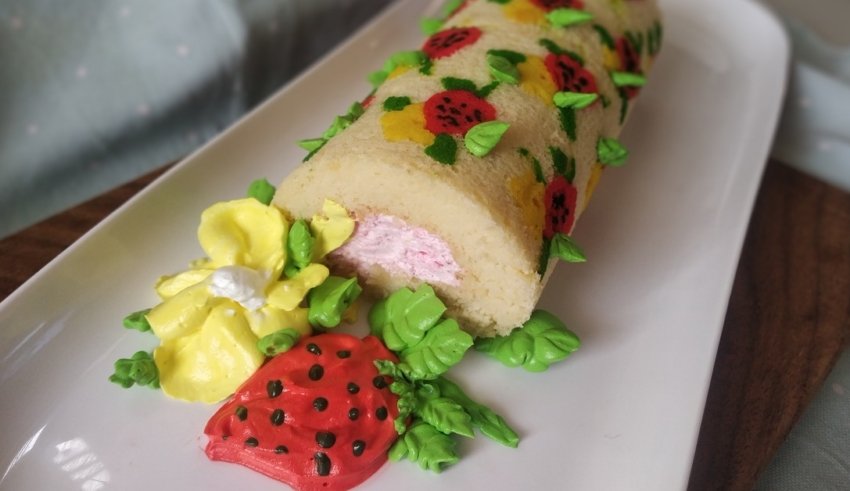 Gluten-Free Rice Flour Deco Roll Cake For The Gluten-Conscious 
Many people are averse to eating gluten-rich foods today. So, it is but inevitable to look for options. White flour, Wheat flour, Barley flour, and Rye flour contains gluten. Some people have Celiac disease. It generally triggers an immune response that leads to bloating, diarrhoea, and gastric issues. Apart from those who have Celiac disease, Gluten sensitivity and intolerance are the other problems. 
So, you can now rely on recipes that taste great, without gluten, of course. Amongst gluten-free cereals, rice and quinoa are the most common ones. Check out this recipe today. 
Ingredients:

 
For floral design: 
Two teaspoon rice flour
Two teaspoons powdered sugar
One tablespoon butter
One egg white
Food colour as required
For batter: 
1/2 cup rice flour(2 teaspoons)
2/3 cup powdered sugar(2 teaspoons)
Two eggs + 1 egg yolk
One tablespoon oil
1/2 teaspoon vinegar
One teaspoon vanilla essence
3 to 4 tablespoon milk 
For filling: 
1/2 cup whipping cream
Two tablespoon strawberry crush
Also Read: How To Make Delicious Bhoger Khichuri This Durga Puja
Method: 
1. Take white paper and draw the design you want to make. Please put it in the baking tin, brush oil and cover it with parchment paper and brush oil again.
2. To make the dough for design, mix all the ingredients, divide it into parts, and mix the colour of your choice. Fill it in the parchment paper cones and make the pre-lined cake tin designs.
3. To make the dough, separate the egg whites and yolk. Beat the egg whites with an electric whisk and mix the vinegar. Add 1/3 cup sugar, a spoon at a time. Make sure all the utensils are grease-free. Beat the mix till the sugar dissolves and stiff peaks show up.
3. Then beat the egg yolks with 1/3 cup sugar, one spoon at a time. Beat till the colour becomes pale. Now add vanilla essence to it.
5. Add the rice flour to the yolk mixture after sieving through. Put milk if required to adjust the consistency. Add the beaten egg whites and mix them with the cut and fold method. 
6. Pour it into the cake tin and bake it in the oven at 160 to 170 degrees centigrade for 10 to 15 minutes.
7. Cool it, and then remove the parchment paper.
8. Whip the cream and the strawberry crush together. 
9. Flip it and spread the whipping cream mixed with the strawberry crush. Then roll it, cover it with parchment paper and put it in the fridge for at least 2 hours. 
10. Trim the ends and decorate them with coloured whipped cream. And serve chilled.
That is a beautiful recipe, of course, for all your sweet-toothed people out there. Eat Gluten-free and stay healthy.