Bhog is a prasad that is distributed to the devotees on the seventh (Saptami), eighth (Ashtami) and ninth (Navami) day of Durga puja. It is vegetarian and does not even contain onion or garlic. Bhog mainly comprises delicious
Bengali dishes like khichuri, chorchori, chutney, beguni or begun bhaja, luchi, payesh, mishti doi or roshogolla. Many puja committees also offer pulao, labra, alur dom, cholar dal, aloo phulkopir dalna, chanar dalna etc.
To Make Bhoger Khichuri
Prep Time: 5 min | Cook Time: 25 min | Total Time: 30 min
 Ingredients:
1/2 cup basmati rice, or gobindobhog rice
1/2 cup yellow or dhuli moong dal
2 red chillies, dried
1 tsp cumin seeds
1/2 tsp hing or asafoetida
1 medium-sized tomato, chopped
5 tbsp ginger, grated
Salt to taste
2 tsp sugar
1 tsp turmeric powder
2 tsp coriander powder
3-4 cups water
2-3 green chillies
5 green cardamoms, roughly crushed
2-inch cinnamon, roughly crushed
2 tbsp mustard oil
2-3 tbsp ghee
3 cloves, roughly crushed
Cooking Process:
Take a heavy-bottomed pot, add the unwashed moong dal and dry roast it over medium-high flame. You need to cook it while stirring continuously, for 3-4 minutes or until the colour of the dal changes from yellow to light brown/mustard (check the above picture) and it starts giving out a nutty aroma. Transfer it to a bowl and immediately rinse it with water. Keep it aside.
Pour rice into the same pot and dry roast it for 2-3minutes. Keep stirring until its colour changes to pale brown colour (check the above picture). Transfer it to a bowl and rinse it with water. Keep it aside.
Wipe the same pan with a cloth or kitchen towel. Pour mustard oil and heat it over medium flame until it starts to smoke. Then add dried red chillies and cumin. Let the seeds splutter. After that lower the flame and add hing. Mix well and cook for a few seconds.
Add tomato, ginger and salt. Mix well and cook over low flame for a few minutes until the tomato softens.
Add sugar, turmeric powder and coriander powder. Stir it and cook for 2-3 minutes.
Then add the washed rice and dal. Give it a good mix.
Pour water and mix well. You may require 3-4 cups of water. Start with 3 cups and you can add more if the khichdi starts drying out while the rice and dal are not cooked completely. Here I have used 3.5 cups of water.
Add green chillies and increase the flame to high. Let it boil for a few minutes until the rice and dal are cooked through.
Turn the flame off. Add crushed green cardamom, cinnamon, cloves and pour ghee over the top. Mix well. Serve hot
.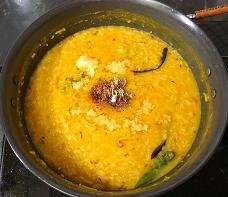 Also Read: Bhuna Khichuri – Traditional Bengali Pujo'r Special Bhog
To make Begun Bhaja
 Ingredients:
Eggplant/Begun : 1
Turmeric Powder: 1 teaspoon
Red Chili Powder: ½ teaspoon
Sugar: ¼ teaspoon
Salt: ½ teaspoon
Wheat Flour: 1 teaspoon
Mustard Oil: 100 ml (for deep frying)
Cooking Process:
Wash Eggplant under running water.
Cut the Eggplant longitudinally.
Basically, the stem will be cut into pieces along with the flesh.
One medium-size Eggplant to be cut into 6-8 long medium-thick portions.
Now sprinkle Turmeric Powder, Red Chili Powder, Sugar, and salt over the Eggplant and rub the spices.
Leave the marinated eggplant for 15 minutes before frying.
Heat Oil in a pan and then keep the flame medium high.
Sprinkle little wheat Flour over the eggplant and coat lightly.
Now start frying the eggplants from both sides until crisp and light brown in color.
Strain from Oil and serve Begun Bhaja.
To make Raw Mango Chutney
 Ingredients:
1/2 kg raw mango, cut into cubes
1/2 tbsp ginger, grated
8-10 raisins
1 tsp panch phoran
2 red chillies, dried
1/2 tsp turmeric powder
1 tsp salt, or add it according to your taste
1/3 cup sugar
5 tbsp mustard oil
Cooking Process:
Heat mustard oil in a non-stick pan over medium flame. Add panch phoran and dried red chillies. Let the seeds splutter.
Add chopped raw mangoes and give it a mix.
Then add salt and turmeric powder. Mix well.
Cover with a lid and cook for 10-15 minutes until the raw mangoes become soft and mushy.
Add sugar and mix again.
Cover with a lid and cook for 2-3 minutes or until the sugar melts.
Uncover and add raisins. Bring it to a boil. Allow it to cook for 5 minutes. All the water will evaporate and the chutney will thicken slightly.
It is ready to serve now.