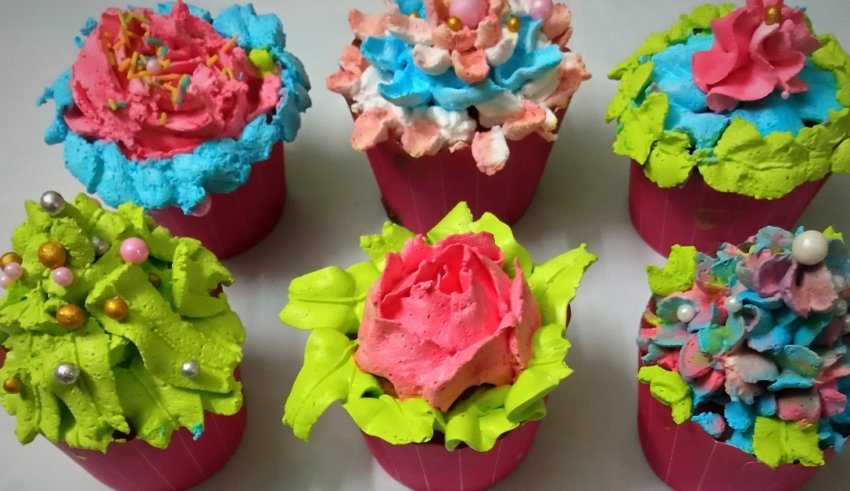 Ingredients for six Cream Deco Cupcake,
Take:
Cake flour 50 gm
Powder sugar 50 gm
Baking powder 1tsp
Baking soda 1tsp
Butter 50 gm
Egg 2
Vanilla essence 1 tsp
Salt 1 pinch
For cream decoration:
Whipped cream 150 gm
Food colour (water/gel)
Red, blue, green,
Sugar ball 10 gm
Also Read: Simple black forest cake recipe for any occasion
Process for baking Cream Deco Cupcakes:
First, separate the white part from the yolk of the eggs.
Beat the white part with a whisker. When it foams up, mix the yolk and beat it again.
Pour melted butter and beat this for another 5 mins.
Again, mix the sugar and repeat the whisking process for 5 min.
Strain all dry ingredients, mix it with the mixture prepared with eggs, white and yolk. But while doing this, keep in mind that you will have to do them in batches and not all of them mixed in one go. Gradual mixing will help to blend all the ingredients well.
Take six cup liners, pour the mixture into each cup liner, fill 3/4th of each cup.
Bake it for 25 mins at 180°C in the preheated otg. Remember to preheat the otg for 10min at 180°C.
In the mean time beat the whipped cream and pour it into three bowls and mix different colours in each bowl to get different coloured frosts.
Put the cream in three different types of nozzle pipes.
Decorate the cupcakes with nozzle pipe and sugar balls.