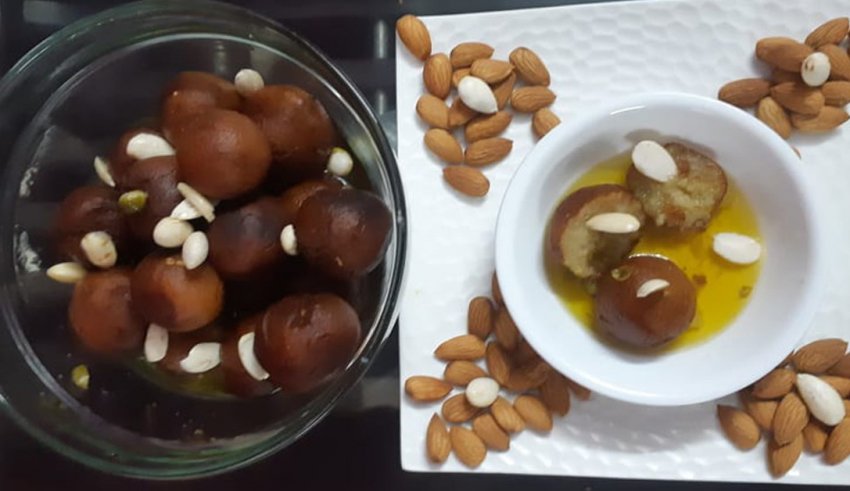 Puffed rice is a staple evening snack for the Bengalis. But when it turns into a mouth-watering sweet, you cannot stop your craving.
Ingredients for Puffed Rice Pantua:
Puffed Rice- 4 cups
Powdered Milk- 4 tbsp
All-purpose flour (Maida)- 3 tbsp
Baking powder- 1/2 tbsp
Milk(room temperature)- 1/2 cup
Ghee- 3 tbsp
Sugar- 1/2 cups
Saffron
Cardamom (Elaichi)
Salt- to taste
Process:
Put the muri in a mixture grinder and grind it well. Then winnow it proprly.
Mix the powdered puffed rice, powdered milk, all-purpose flour (Maida), baking powder, sugar, salt, saffron together and pour a little amount of milk to make it a dough.
Grease the dough with ghee and keep it inside a closed bowl for 15 minutes.
Take a small amount of dough and make small balls.
Add oil and ghee in a pan and put the dough balls into it and fry till it turns brownish. After this, set aside the dough balls for 8 mins.
Take a pan and add sugar and water to it to make a sugar syrup.  Add saffron and cardamom to it and cook until thickens.
Add the dough balls into the sugar syrup and, in medium flame, keep the balls for 1 hour.
Your 'Murir Pantua' is ready to be served, soft, juicy and delicious.