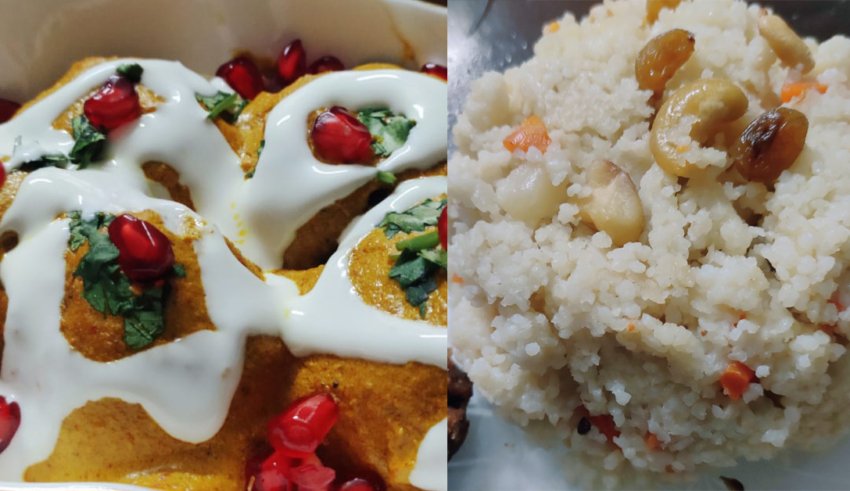 It is time for a Vegetarian Thali!
The month 'Shravan' is a Holy month for Hindus. With the festive fever of Lord Shiva and approaching Janmashtami, the month is more about vegetarian food and concepts. When we talk about food it is usually about non-vegetarian food, but vegetarian food can equally grab the place with delicious holding. So, here I present a combo Vegetarian thali of Sama rice pulao and Dahi kofta curry.
I have used two different recipes to make a suitable vegetarian thali for people who fast during the Holy month or otherwise. So, take note of this and enjoy your fastings. These recipes are without onion and garlic so much suitable for the Jains and people who do not consider onion and garlic as vegetarian food.
Sama Rice, also known as Sanwa millet, is mostly used during fastings. It is a good option to take after you break your fast. High in protein, and fibre which is very beneficial during fasts. This crop is widely used across the globe and is used for making different and delicious dishes.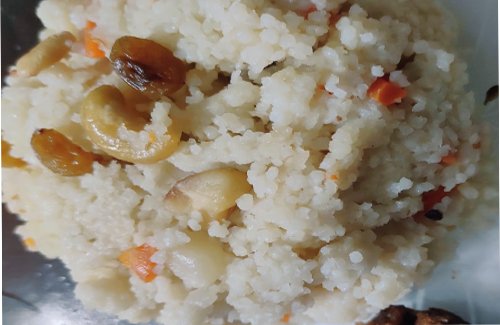 For Vegetarian Thali – Sama Rice Pulao:
Ingredients :
Sama Rice – 1 cup
Carrots – 2 pcs
Potato – 1 pc
Sugar – 1 tbsp
Salt
Ghee – 1 tbsp
Whole Garam Masala
Garam Masala Powder
Cashew nuts
Raisins
Process:
Soak sama rice for half an hour and drain it. Take a kadhai, add ghee, add whole garam masala, when it begins to sizzle then add cashew nuts, raisins, stir well, after that add chopped carrots and potato, again stir it. Then add soaked sama rice, sugar, salt and stir it for 3 to 4 mins., then add 2cups of hot water and cover it for 10mins. After that add garam masala powder and ghee, serve.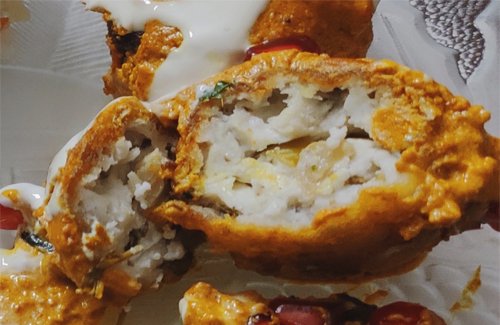 Dahi or hung curd is very useful for the intestine. Summer gives lesser options for the use of vegetables. A simple yet delicious dish is most suitable during the season of fasting. A wholesome diet is important to keep the balance of the body devoid of non-vegetarian items.
Vegetarian Thali – Dahi Kofta Curry
Ingredients :
Hung curd – 1 cup
Cardamom powder – 1/2tsp
Green chilly – 1 tsp
Roasted Makhana Powder – 4 tbsp
White pepper – 1 tsp
Milk powder – 1 tbsp
Cornflour – 3 tbsp
Coriander powder – 1 tsp
Cumin powder – 1 tsp
Turmeric powder
Coriander leaves chopped – 3 tsp
Charmagaz – 2 tbsp
Poppy seeds – 2 tbsp
Whole garam masala
Garam masala powder
Fresh cream
Pomegranate
White oil
Salt
Sugar
Process:
Make a paste of charmagaz, poppy seeds and cashew nuts. Take a bowl, and place hung curd into it. Then add white pepper, roasted makhana powder, green chilly, salt, milk powder, mix well then add cashew nuts and raisins, cardamom powder again mix well, now make a ball of it and coated it with cornflour. Then fry the balls in white oil. Kofta is ready.
Gravy or Curry:
Take a kadhai, add white oil and whole garam masala, when it begins to sizzle then add sugar, turmeric, coriander and cumin powder and stir well, add salt and little water. Now add the charmagaz paste and stir it, Now sprinkle garam masala powder and cover it for 5mins. After that add fresh cream and switch the flame off.
Garnish it with fresh cream, coriander leaves and pomegranate.