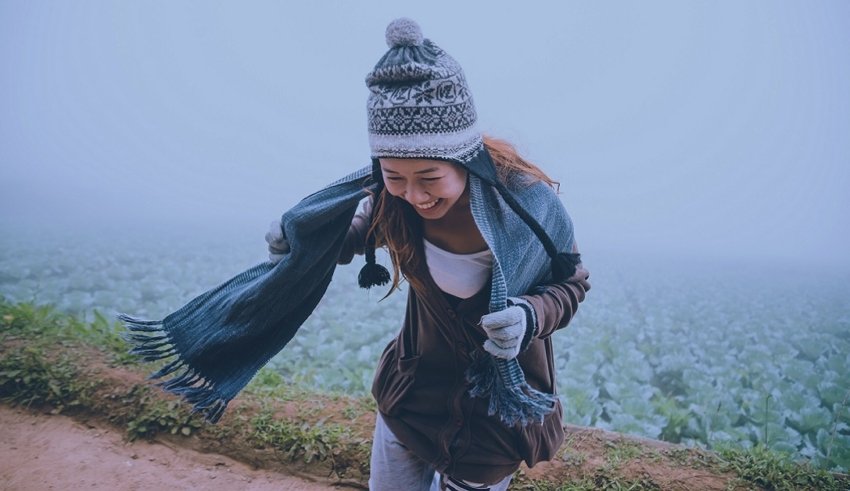 Winters have arrived, and you must be already feeling the chills. Well, it is that time of the year when Christmas bells ring, and we can have a fruit cake, too. Sadly, winters stay on in our country for a few months. So, let us make every bit of it enjoyable today. You can enjoy these months with visits to the parks, gardens, museums, and animal reserves. Moreover, making merry in winter clothing style is a boon amidst dipping temperatures. 
Today you will learn about a few winter staples that can increase your style quotient apart from keeping you warm. 
Winter Clothing Essentials   
1. Woolly Coats are in this season. You can go to any day event or evening party out if you have a woolly coat handy. There are plenty of wools that have thronged the market. There is faux, sheep and Alpaca wool. Each one has its speciality. 
2. Leggings or stockings are also another favourites for winter clothing. If you are amongst those, who wear woolly coats and trench coats all the time, you will need to pair them with something to cover your legs. Faux leather leggings or stockings have hit the fashion scene with aplomb. Once you slip into this attire, you will get the best designer look. And be sure that everybody will be in awe of you. 
3. Whatever you call them, Sweaters or cardigans will never go out of style. Your stylish winter clothing will be incomplete without them. There are so many styles to choose from: long sleeves, turtle necks, crew necks, and V-necks. You can select the buttoned-down front ones or the pullover varieties. It can lend you a timeless and vintage look, too. 
4. Scarves are another accompaniment to your winter clothing. Without them, your winter holidays can be dull and dreary. Moreover, they are essential for those times when you feel hot neck down. However, chilly weather may play havoc with your vocal cords. You can buy scarves in various colors and tones. There are geometrical prints, stripes, florals, and vegetable-dyed scarves that rule today's fashion ramp. Make them a part of your winter capsule wardrobe. 
Also Read: Why Is Attar Fashion In Back? Impact on Fashion Industry.
5. Puffer Jackers or any jacket for that matter is an excellent addition to your wardrobe if you are into hiking and trekking. Several varieties are available, from sleeveless ones to full sleeve ones. You can zip up or down as the weather deems it. 
6. Loungewear like hooded sweatshirts and tops are in our wardrobe for quite some time now. All thanks to the pandemic, that we have them handy. You can wear them outside in the winter, too. They are pretty comfortable and warm for cool temperatures. Moreover, they are not too heavy. So, you can also enjoy long walks in them. 
7. Standard beanies are also a great winter attire. You cannot leave your brains to chill, can you? If you are going for a date or a movie, wear one on your head. It should not be too heavy, as heavy ones can make you sweat. 
8. Peacoats are also doing well this season. You can choose the double-breasted ones to go with the climate. If you are thin, then this coat will add somebody. The straight silhouette and cut can make it easy to sport. 
9. Jeans is another winter clothing that you can sport in trendy colours. Today, quite a few of them are available. Indigo ones are the most stylish ones. You can pair them with just about anything thing, a pullover or jacket. They will keep the legs warm. 
10. Wool Turtle necks are also another winter style to rule the ramp and streets. It is ethereal and never goes out of style. To absorb the heat, you can wear some bright colours, orange, magenta, and black. 
11. Ponchos are also quite popular as stylish winter clothing. Today, they come in various materials, from wools to cashmere. Faux Leather is also entering the scene—sport one of these today. 
12. Wool Runner Sneakers are in for winter jogs. They will keep your feet nice and warm through all the hard work that you do. Merino wool ones are winter style. Therefore, go for them today. 
13. Over the knee boots are also in if you plan to walk through the snow. This practical boot with a fascinating look will add a lot of glamour to any attire, like a woolly jacket or dress. And, you will not feel relaxed, but stylish. 
14. Merino wool calf socks are a necessity for all sock lovers. Not many love them, but they are a necessity. 
15. We have been fighting a raging virus for over a year, and a scarf mask is what we need right now. It is less cumbersome and a lot safer than two separately. 
These are the winter clothing essentials that you need to stay warm and look stylish at the same time. Go for it!