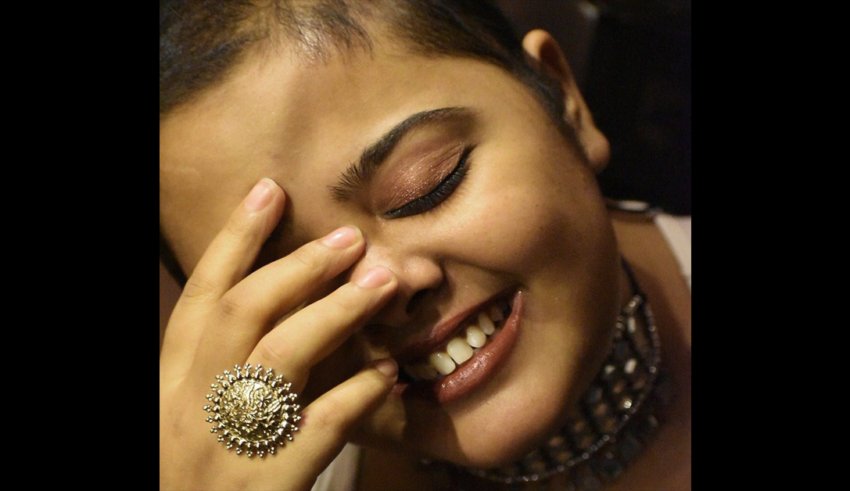 A woman is worshipped, but her power does not come from the devotees but from the struggle or battle that she fights alone. Real-life stories of women that are true and inspiring are always looked after. One such young and a dynamic lady is Tithi Dutta. Nothing can stop the fiery willed lady. From a serious medical condition to fighting the battle, Tithi says YES to life. She was already running a Cloud kitchen successfully when she was struck by a bolt of lightning. However, she chose to fight back and came back with a bang. Let us find out more about such a woman who is powerful than any hurdle in life.
Tithi and her life in general:
Tithi runs home cooking services and also reprised the role of a teacher of English. In her words, "I used to be a Chef at Westin. I am working as a team member in Makeover Madness, right now. You can call me a multi-faceted personality", she smiles as she describes.
When asked if her story should be trending on the internet, she said with utmost confidence, "I am serving food to covid affected patients in Hooghly.  In fact, I am the first person to start this in service on April 21'. You can order any food from my cloud kitchen. Moreover, a part of the food that you order, goes to the underprivileged. So, that is the reason I should be trending right now."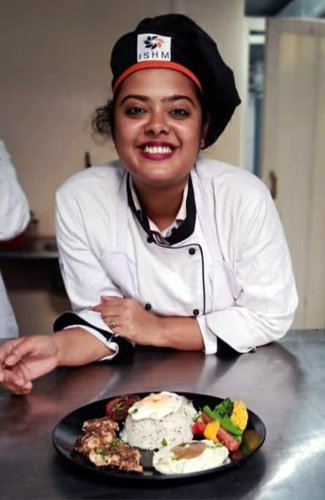 And it started in 2016:
Tithi since childhood has been dynamic and up for any work. Asking about her beginning, she replies,
"I started my Cloud kitchen in May 2016. My close teacher's house help got sick. She was expecting guests and had casually told me about her dismay. And I decided to help her. It was an impromptu decision of my life. Although I always wanted to cook professionally."
The Battle and Win:
Few things are better to be heard from the first person. Despite being fit and active, Tithi got a thunderbolt last year and as she explains her lips fumble.
"Aaah, I was on leave, after New Year's Eve.  The new year is a hectic time for chefs. After that, we go on a holiday for a few days. I was at home spending time with family, when I collapsed suddenly. I am the elder daughter. There is no patriarchy in my family. So, I take on everybody's responsibilities. No one was able to fathom what had happened at first.  My relatives were scared. I was taken to a local doctor, who diagnosed me with acidity. However, it was a wrong diagnosis. I was working at that time in my cloud kitchen. I did my last delivery on 21st Jan this year. Later I went for a second opinion and after serial tests, I was detected with a tumour the next day.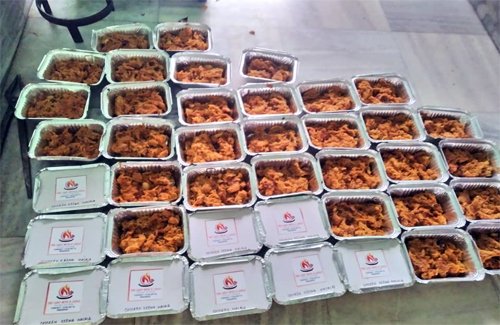 Also Read:
Menstrual Hygiene: Do you know enough about it?
As I was actively working I had my orders pending. However, I chose not to cancel the orders but work till 26th Jan 2021. Days after this, I got admitted to Medica Hospital. I was operated and my surgery took around 6.5 hours. There were many complications post-surgery like speech issues, no control over my emotions and not remembering things properly.
Restarting Life and beyond:
There is no doubt that Tithi is an aspiring Chef and a food-preneur along with being a social helper. In her words, "For a person like me, it was not possible to just sit and relax, doing nothing. I resumed work in April 2021. Work was my medicine. Work makes me happy and I am simply trying to keep myself happy. With food pop-ups, I am curating my menu lists.
The young woman can not get vaccinated as she underwent leg surgery prior to the tumour one. However, this risks her life but nothing can stop her. She is serving people through her cloud kitchen, TLWL. As her medical condition does not permit her to rejoin her profession at Westin but she can do anything but see people not getting food. So, her kitchen is still open to serve people.
The Bengal Chef Journey:
"This is an irony that in 2019 I came across a social media post by Chef Rongon Neogi about a culinary contest, named The Bengal Chef. The name attracted and more than that I always wanted to develop my culinary skills. I participated in the contest but did not win. Though I was a bit disappointed I promised myself that I shall again participate and win. The same happened and I won. Later I also won many prizes like Rabindra Utsav'21 Thakurbarir Ranna organised by Woman times. Participating keeps my spirits high", says the lady with the ladle.
Message For Other Women:
The most interesting thing in this lady's life is that people around her praised her cooking skills but seldom did anyone encouraged her to pursue it as a profession. Being good in academics everyone thought she would go deeper into it academics. When asked about how she started she gladly recalls,
"I started working after graduation, and saved money with that I took admission into the culinary arts course. Cooking is my passion now converted to a profession. My family wanted me to do something else but I stick to my passion. If you have a passion for something, it is never too late to pursue it. At 24 years of age, I told my family I did not want to get married. I wanted to prove myself and am successful enough."
So, it is never too late to follow your passion. Tithi is an inspiring story for any woman who contemplates and leaves things to the other day. It is in you, get up and start your life anew.