Dahi Chicken, the name itself brings the taste buds to commit the sin of gluttony. Chicken is highly nutritious for health, enriched with proteins, vitamins and other nutrients it boosts the body energy. Today I will share you my recipe of Dahi Chicken but without oil, as excess oil consumption is not advisable for any people of any age.
Ingredients for Dahi Chicken:
Chicken – 500 gms
Salt as per taste
Ginger, garlic paste – 2 tbsp
Black pepper powder – 1/2 tbsp
Garam masala powder – 1/2 tbsp
Curd – 300 gm
Chilli powder – 1 tbsp
Sliced onion – 2
Capsicum – 1
Bay leaf – 1
Kasuri Methi 1 tsp
Butter as required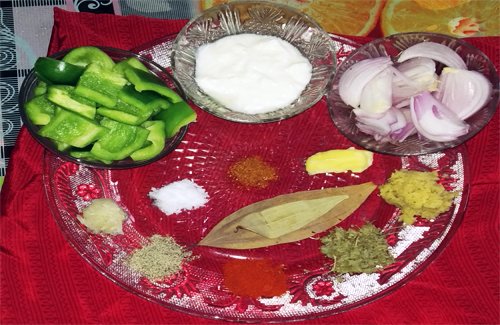 Process:
First, we have to marinate the chicken for at least 1 hour with curd, ginger-garlic paste, salt, black pepper powder, chilli powder, garam masala powder, salt.
Then we must heat the pan. Add 1 tablespoon butter, 1 bay leaf, add the sliced onion and capsicum with a pinch of salt.
When the onion and capsicum get soften, add the marinated chicken.
Stir it well on high flame.
When the oil starts coming out, cover it with a lid and keep on medium flame. Let the chicken boil in it properly.
When it's done, add two green chillies and crush a lit bit of Kasuri methi and scatter it. Now the chicken is ready to serve.
Garnish it with pieces of lemon, and cucumber. You may add other things to garnish as well.